D.C. United plays the New York Red Bulls, yet again, but this time in the pit that is Harrison, New Jersey. This is the third game of this year's Atlantic Cup, which D.C. United has already sewn up with two wins at RFK Stadium. However, the Red Bulls are currently below the Thin Red Line, and putting a crushing blow on the Red Bulls' playoff hopes is good enough to get me to watch. But having put out the first choice starters against the Vancouver Whitecaps, who will play against the Metros?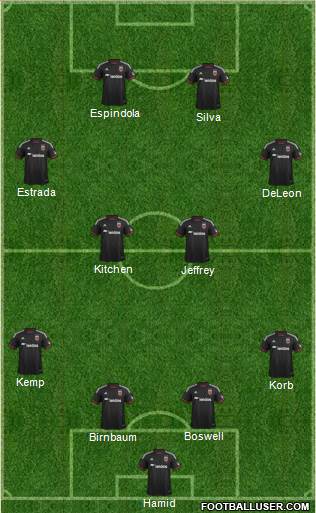 I assume that Ben Olsen will do some roster rotating, with this game coming a few days after the Whitecaps and a few days before United takes on the Chicago Fire. With Chris Korb getting close to healthy, I think that he will spell Sean Franklin in this game. I don't think that Samuel Inkoom will start this game, but look for him to get some time here and then perhaps a start might come against Chicago. In addition, I think that Olsen will rest Davy Arnaud and give Jared Jeffrey some game time, which is needed since I assume he will be starting in the Concachamps game next Wednesday.
Other than those two changes, I think that the lineup will be the same as against Vancouver, but I think that Ben Olsen will have a quicker trigger finger on substitutes due to a deepening bench. On that bench will be Joe Willis, Kofi Opare, Samuel Inkoom, Davy Arnaud, Eddie Johnson, Lewis Neal, and the triumphant return of Chris Pontius. I would love for Pontius and EJ to get at least twenty minutes each, with Olsen holding onto the last sub as the game turns. Bringing on Pontius for Estrada could give Henry some terrible flashbacks, and anything we see out of him this season is just gravy.
What do you want to see Ben Olsen do on Wednesday?