Fresh off of an Atlantic Cup clinching victory, D.C. United gets a week of rest before flying to Canada and taking on the Vancouver Whitecaps. The 'Caps have been maddeningly inconsistent this season, and despite accolades early in the season they are hovering right around the Red Line of Playoffs. And despite the difficultly of August, this month looks to be almost as crowded with four MLS regular season matches and two Concacaf Champions League games coming up. The next time that United will have a week off will be between the September 27 and October 3 games, so we will see roster rotation continue.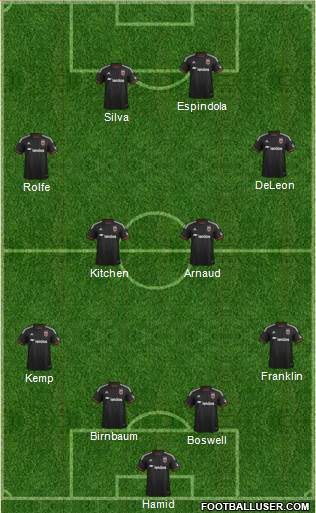 With all of the league games this month against middle of the table teams, Olsen will have to measure his roster rotation against the fact that United should on paper be able to get points out of all of these games. That said, I think that he starts this four game road trip with his strongest lineup possible. That means the pairing of Fabian Espindola and Luis Silva up top; a midfield of Nick DeLeon, Davy Arnaud, Perry Kitchen, and Chris Rolfe; and a defense of Sean Franklin, Bobby Boswell, Steve Birnbaum, and Taylor Kemp.
The other thing to balance is the fact that a number of injured players are soon to be available for selection. Ben Olsen said at training today that Chris Pontius should be available to make the bench in a week or two, which is far faster than any of us imagined at the beginning of the season. Combine that with the return of Chris Korb, Michael Seaton, and Collin Martin and United will be with almost its full complement of players at exactly the right time. With this lineup, I think the subs will be Joe Willis, Kofi Opare, Chris Korb, Jared Jeffrey, Lewis Neal, Eddie Johnson, and Alex Caskey.
What do you think Olsen will do this weekend? Have a different start to the roster rotation in mind?