D.C. United will take on the Chicago Fire this weekend without the services of Fabian Espindola, whose ridiculous red card was upheld. United play the Fire twice in this last part of the season, and can hopefully turn those games into East-sealing points. But even without Espindola, United is getting players back: Chris Korb, Chris Pontius, and Eddie Johnson are all available to be selected for this match. So, what will Ben Olsen do?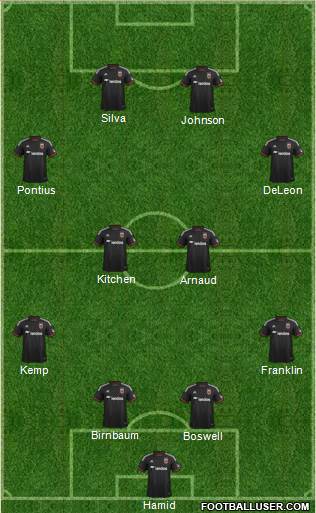 Now that Eddie Johnson has recovered from his concussion, he is the logical choice to slot in next to Luis Silva on the forward line. In the midfield, the only change is that I think that Chris Pontius will make his first start for D.C. United since 27 October 2013. Even if he cannot yet go a full game, he believes that he can go sixty minutes; after that, there are plenty of options to replace him. Davy Arnaud, Nick DeLeon, and Perry Kitchen will all occupy their normal places.
In the defensive line, I don't think that Chris Korb is up to going a full ninety minutes quite yet, but I think that we will see him start next Wednesday against Tauro FC (in which Taylor Kemp will be suspended). After that game, it will again be a battle between Kemp and Korb to see who is United's left back down the stretch and into the playoffs. On the other side of the defense, Sean Franklin is still ahead of Samuel Inkoom, but Inkoom will get plenty of chances to show himself down the road. There is no question, however, about the fact that Bobby Boswell and Steve Birnbaum will start.
With this lineup, the subs will be Joe Willis, Samuel Inkoom, Kofi Opare, Chris Korb, David Estrada, Lewis Neal, and Jared Jeffrey. What do you want Ben Olsen to do?