Despite some D.C. United players being in action tonight (more on that later), the next game that D.C. United plays as a full team will be this Saturday, when they travel to Utah to take on Real Salt Lake. United will have the advantage of facing RSL when they are without Tony Beltran, Chris Wingert, and possibly Kyle Beckerman. However, D.C. United will be missing some key players of their own, with Perry Kitchen suspended and Chris Korb, Nick DeLeon, and Luis Silva all unknown due to various injuries.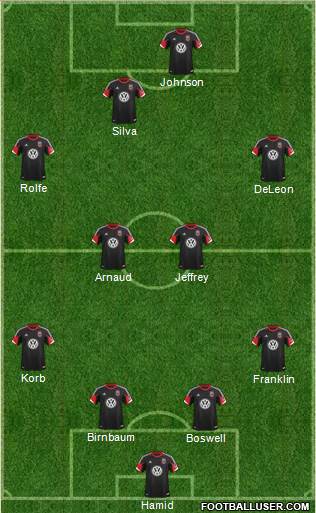 Ben Olsen told Steve Goff today that Fabian Espindola will rejoin the gameday roster for the game against RSL; however, he obviously won't start after a 2 month absence. The player that will start alongside Eddie Johnson all depends on injuries to other players; since no further injuries were mentioned in Goff's piece, I would assume that everyone is available for selection. That means that Luis Silva will again start alongside Eddie Johnson, with Michael Seaton hopefully getting more time to spell either of them late in this game.
The main change in the midfield is the task of replacing Perry Kitchen, who is rotating himself by getting suspended for yellow card accumulation for the second time this season. As we talked about in the most recent episode of Filibuster, Lewis Neal seems to be a better player when he is moved centrally, as he is one of the oldest players on the team. The other candidate to start alongside Davy Arnaud would be Jared Jeffrey. Even though Neal has started in central midfield this season, when Arnaud was suspended, I think that Olsen will go with Jeffrey as a slightly more natural replacement for Kitchen. Nick DeLeon and Chris Rolfe will man the wings.
The only question in defense is if Chris Korb will be ready to go or not; if not, then expect to see Taylor Kemp again at left back alongside Bobby Boswell, Steve Birnbaum, and Sean Franklin. With this lineup, the substitutes would be Joe Willis, Kofi Opare, Taylor Kemp, Collin Martin, Michael Seaton, Fabian Espindola, and Lewis Neal. Do you think that Jeffrey should be the direct sub for Kitchen? Or do you think that Ben Olsen should change formations, as he did the other time Kitchen was out against the Columbus Crew?