After the debacle in LA, D.C. United took a charter flight back to the District to get back for this Sunday's game against the New York Red Bulls. United started a makeshift midfield in order to give some players rest, such as Davy Arnaud and Chris Rolfe, and their absence was sorely noted. Will Ben Olsen make any changes from his typical starting XI?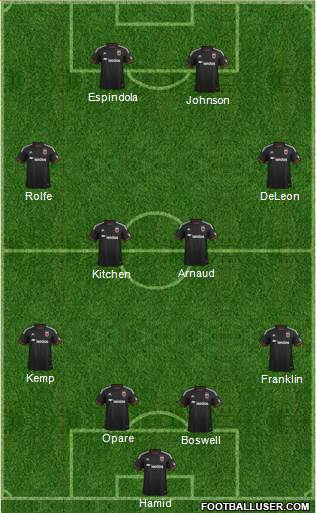 The only place where I could possibly see a change coming is on the backline, where Kofi Opare is likely to be pushing Steve Birnbaum for playing time. Overall, Birnbaum has played quite well, especially for a rookie, and his poorest performances have come when the whole team collapsed around him as well. However, Birnbaum has played almost every game since Jeff Parke went down with injury, including the US Open Cup and the Concacaf Champions League, and so it might be that he needs some time off.
The only other question is who will start next to Fabian Espindola: Eddie Johnson or Luis Silva. The topic has been debated all across these internets, and I feel no need to debate it here as well (although you should feel free to do so in the comments!). I went with EJ next to Fabi on the front line, with a midfield of Chris Rolfe, Perry Kitchen, Davy Arnaud, and Nick DeLeon. Finally, the back line is Taylor Kemp, Kofi Opare, Bobby Boswell, and Sean Franklin.
D.C. United's official injury list has shrunken dramatically over the past week; gone from it are names like Chris Korb, Nana Attakora, and Michael Seaton. The only remaining members are Jeff Parke and Chris Pontius, and both are expected to return to training sometime soon. With this lineup, the subs will be Joe Willis, Steve Birnbaum, Nana Attakora, Jared Jeffrey, Lewis Neal, David Estrada, and Luis Silva. What do you want to see Sunday afternoon against the Metros?