D.C. United travels to Los Angeles to take on the Galaxy late tomorrow night. Barring a meetup in the MLS Cup (or a Michael Jordan-esque comeback), this will be the last time that United will face Landon Donovan. Ben Olsen and Sean Franklin will apparently present a gift to Donovan before the game, one that has been provided by Events DC (the owners of RFK Stadium). Is it Ronnie Raccoon? Rust shavings? A broken chair? Regardless of the outcome of the gift, who will take the field to try and stop Mr. Donovan?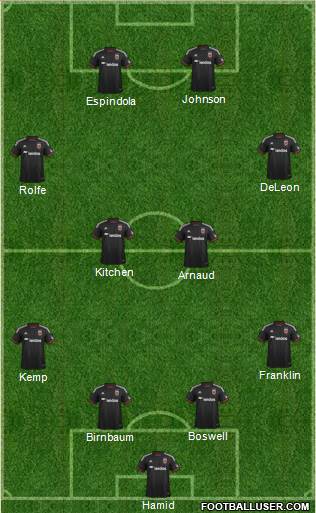 There has been controversy swirling around Eddie Johnson from the beginning of the season, much of which has been covered on these (digital) pages. And that controversy is back once again with Eddie Johnson coming off of his suspension. If all things were equal, I would think that Johnson would stay on the bench in favor of the pairing of Fabian Espindola and Luis Silva. However, all things are not equal and I think that Silva will start the game on the bench to give him some rest for the weekend. If things are not working by about Brankotime, I would expect to see Silva come in for EJ.
Other than that, the starting lineup is the same as from the game against Sporting Kansas City. Bill Hamid will start in goal, with Sean Franklin, Bobby Boswell, Steve Birnbaum, and Taylor Kemp ahead of him. The midfield will be the familiar combination of Nick DeLeon, Davy Arnaud, Perry Kitchen, and Chris Rolfe, although Rolfe will probably need a day off in the next couple of weeks. With this lineup, the substitutes would be Joe Willis, Kofi Opare, Nana Attakora, Jared Jeffrey, Lewis Neal, David Estrada, and Luis Silva.
What would you do with Eddie Johnson, and what do you think Ben Olsen will do with him?