When D.C. United goes to Kansas tomorrow to take on Sporting Kansas City, they will do so with their best possible lineup available, with only Eddie Johnson out due to supsension. While Ben Olsen was able to rest his starters during United's matchup against Waterhouse in the Concacaf Champions League, Peter Vemes did not do the same for Sporting Kansas City, where he played a mix of starters and reserves midweek. However, United's starters will still need to play an exceptional game to get a win, because SKC is one of the deepest teams in the league.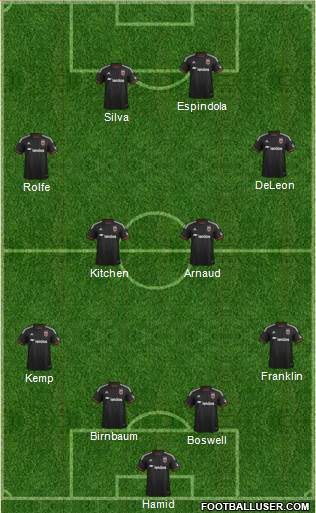 For D.C. United, Ben Olsen rested all of these players explicity so that they could play the full 90 minutes in this game, so expect to see the exact same starting lineup that we saw against the Colorado Rapids. The main question that this lineup will try to answer is whether or not Eddie Johnson should return to the starting lineup next Wednesday against the LA Galaxy and, by extention, going forward. If Luis Silva and Fabian Espindola have another stellar outing against the Sporks, there will be a bigger cry to not disrupt what is working.
The rest of the lineup is as you would expect as well, with a midfield of Chris Rolfe, Perry Kitchen, Davy Arnaud, and Nick DeLeon and a defense of Taylor Kemp, Steve Birnbaum, Bobby Boswell, and Sean Franklin. And, as always, Bill Hamid will be in goal. Is there any other possible lineup you would want to see? And what do you think about EJ?