When D.C. United takes on the Colorado Rapids this Sunday, they will do so without the services of left back Chris Korb. The most obvious replacement for Chris Korb, and also the most likely replacement, is Taylor Kemp. Kemp started against the Houston Dynamo and was not very good; however, he has started less than 7 games at left back in his entire MLS career. It is possible that he needs more game experience to develop into a reasonable MLS-quality player, and he has the public faith of the coaching staff. After Kemp, the only other player on the team who has experience at left back is Lewis Neal, who has played there in emergencies. He would only start if Ben Olsen decides that he adheres to the Juergen Klinsmann school of "anyone can play left back."
D.C. United have a slew of players who could theoretically play right back if Ben Olsen chooses to move Sean Franklin over to the left, but none of them are great fits. Perry Kitchen obviously played right back for his entire first season, but moving him out of the middle would be a far worse move than playing Taylor Kemp. Kofi Opare, Conor Shanosky, and Nana Attakora are all center backs who have played some right back in emergencies, but Attakora is injured, Shanosky has only played there with Richmond when a fullback has been removed, and Opare will be spelling either Birnbaum and Boswell.
The final two options are the recently acquired David Estrada, who has played all over the field including some reserve league games as an attack-minded right back. However, with a likely suspension coming for Eddie Johnson, Estrada might be needed further up the field. Finally, Jalen Robinson could be recalled from Arizona United of USL PRO, and he was projected to convert to a fullback at the MLS level. However, Robinson is currently playing center back in Arizona and would only be recalled in the most dire of circumstances.
So where does this leave D.C. United? Right back where they started, with Taylor Kemp starting at left back against the Colorado Rapids.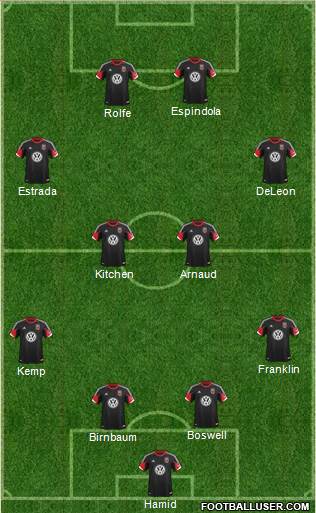 The rest of the team is as you would expect, except with Eddie Johnson replaced by Chris Rolfe and Luis Silva with Fabian Espindola. What would you like to see against Colorado? Given the current roster, would you go with Kemp or with some other solution?