After putting together an impressive road win against Toronto FC, D.C. United are back in action (very) late on Friday night, when they travel cross-country to take on the San Jose Earthquakes. The 'Quakes should have Chris Wondolowski back and in the starting lineup, but I doubt that his availability changes Ben Olsen's lineup. After the success against TFC, is there any reason to change from last week's lineup?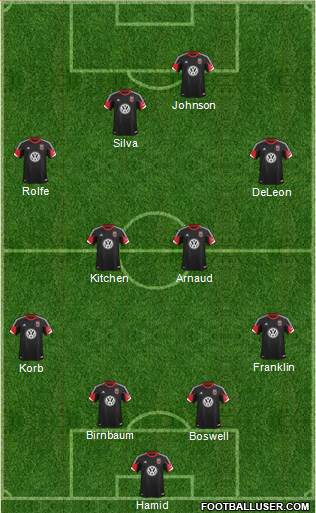 The main debate for this weekend's game is whether Ben Olsen will deploy Luis Silva next to Eddie Johnson, as he did this past week, or if he will bring Lewis Neal into the starting lineup, which would push Chris Rolfe to the forward line. Silva was one of the key contributors to Nick DeLeon's goal last week, helping create the turnover that led to this breakaway. However, other than that one moment he was fairly anonymous.
Lewis Neal, on the other hand, came in and immediately made a difference. While he is not the most creative player, he is solid in possession, makes smart passes, and can apparently deliver some nice crosses. And, perhaps an even bigger advantage, bringing in Neal allows Olsen to move Chris Rolfe to the forward line. However, I think Olsen likes that move as a second half change, and so Luis Silva should get the start again. The rest of the midfield remains the same, with Nick DeLeon, Davy Arnaud, and Perry Kitchen filling out the lineup.
Jeff Parke's foot injury has mysteriously lingered, but the play of Steve Birnbaum in his place has me questioning whether or not Parke will immediately walk back into the starting lineup when healthy. The rest of the defense is as you would expect, with Chris Korb and Sean Franklin the fullbacks and Bobby Boswell starting next to Birnbaum. With this lineup, the substitutes would be Andrew Dykstra, Taylor Kemp, Nana Attakora, Conor Doyle, Collin Martin, Jared Jeffrey, and Lewis Neal.
What do you want Ben Olsen to do this Friday?