After resting most of their starters against Fulham FC, D.C. United's starters return to action tonight against Toronto FC. This begins a brutal stretch for D.C. United, with an August crammed with MLS play as well as the beginning of the Concacaf Champions Leage, and with a September that is only slightly less packed. But while roster rotation is soon to come, it is not here yet.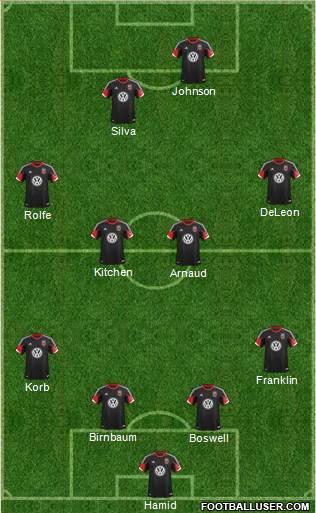 This game will almost definitely feature all of the main starters that we have seen over the past month or two.That means Bill Hamid in goal; a defense of Sean Franklin, Bobby Boswell, Steve Birnbaum, and Chris Korb; a midfield of Nick DeLeon, Davy Arnaud, Perry Kitchen, and Chris Rolfe; and a forward line of Luis Silva and Eddie Johnson. One worry, however, is that Perry Kitchen is again one yellow card away from a suspension for accumulation, which would be his second of the year.
The main question this week is whether or not Fabian Espindola will make his return to the bench for this game, or if it is still too early for him to see any part of game action. Espindola has returned to full training this week, after starting light training in the last few weeks. Obviously, he is not yet ready to start, but for the next few weeks he could be an impact sub of the bench, the likes of which most other teams do not have.
With Nana Attakora out for this game with a concussion (joining Chris Pontius, Jeff Parke, Kyle Porter, and Andrew Dykstra on the injury report), new signing Kofi Opare should jump right to the gameday roster. He will be joined on the bench by Angry Joe Willis, Taylor Kemp, Lewis Neal, Jared Jeffrey, Conor Doyle, and Fabian Espindola. All of these players, and more, will be making spot starts throughout the next two months; while the friendly against Fulham did not fill me with confidence in them as a collective unit, perhaps when matched with some of the team's regular starters they will perform better.
Who do you see starting tonight?