The lineup that D.C. United ran out against the Seattle Sounders looked fairly impotent in the absence of Fabian Espindola. Without him, the creative burden falls to very good players like Chris Rolfe and more inconsistent players like Luis Silva and Nick DeLeon. But against Toronto FC this weekend, will Ben Olsen field the exact same lineup?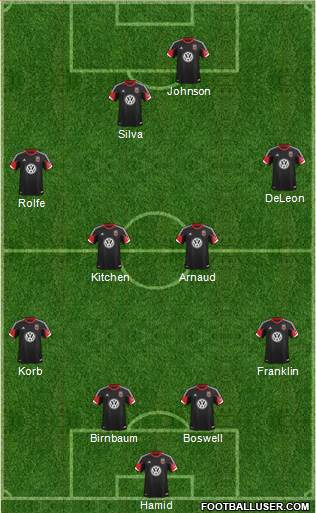 While his obvious frustration at the very beginning of the game was unbecoming, Eddie Johnson is slowly becoming more integrated into D.C. United's attack. It seems ridiculous to be saying that after four months of the season are past, but with the injury to Fabian Espindola there is no way that Ben Olsen could bench EJ right now, nor do I know if it would do much good.
The main question, as it will be until he comes back, is who takes Fabian Espindola's spot next to Eddie Johnson. Luis Silva's hat trick is still fresh in our minds, but so to are the other games that he has played recently. I would prefer to move Chris Rolfe to the front line alongside Johnson, but the wide depth behind Rolfe is lacking creativity. Lewis Neal would likely get the start, and the options after him are Alex Caskey or Taylor Kemp. Collin Martin is another option, in the mold of Silva, but I expect him to keep getting substitute minutes for now.
Speaking of Taylor Kemp, I would like to see him get more minutes as a substitute or as a starter to see if he can be an MLS-quality fullback. Due to injuries in front of him on the depth chart, he has never gotten any consistent run of time to develop with the Richmond Kickers; now, with the departure of Cristian Fernandez, he is a likely starter should either of United's current starting fullbacks get injured. It is unlikely that Korb will change his game much going forward; he will be 27 by the end of this season, and he already has 76 appearances for United. Kemp, on the other hand, has only 19 professional appearances and will turn 24 this month.
With this lineup, the backups would be Andrew Dykstra, Taylor Kemp, Nana Attakora, Lewis Neal, Conor Doyle, Collin Martin, and Jared Jeffrey. Who do you want to see Ben Olsen start, and in what formation?