D.C. United welcomes Chivas USA to town for what could be the last time (at least with that name). The Goats have been on fire, winning their last four games and riding a five game unbeaten streak on the back of Erick Torres. Will Ben Olsen change up his lineup to deal with Chivas?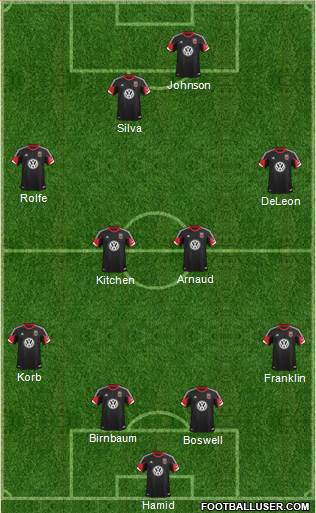 In a word, no. Fabian Espindola has returned to D.C. United's training field, but I don't expect to see him get anything more than a cameo in this game, if even that. The front line will continue to be Eddie Johnson and Luis Silva, with the same four of Chris Rolfe, Perry Kitchen, Davy Arnaud, and Nick DeLeon in the midfield. Ben Olsen's defensive substitution pattern has solidified over the past few games: bring on Lewis Neal so that Chris Rolfe moves forward, and then bring in Conor Doyle to hound the opposition late.
The offensive substitution pattern has been similar, and while Doyle and especially Neal are capable of producing offense, they are not primarily known for their offensive threat. Problems with that assessment for Doyle aside, I think it is time to tweak the offensive sub pattern some. For example, Collin Martin has made the bench over players like Kyle Porter and Alex Caskey so why not give him more minutes to work with off of the bench?
There is still a possibility that the MLS Disciplinary Committee could review Bobby Boswell's knee to the back of Steven Lenhart and decide to suspend him for a game, despite the fact that they have already acted this week. If available, he will obviously start alongside Steve Birnbaum; if not, it would probably thrust Nana Attakora into the starting lineup and put Conor Shanosky on the bench, with Jeff Parke still out with his foot injury. Attakora has earned 78 professional caps so far in his career and has a few caps for the Canadian men's national team, so he is no rookie; however,  would still be a large step down from Boswell and Parke.
With this lineup, the substitutes would be Andrew Dykstra, Taylor Kemp, Nana Attakora, Jared Jeffrey, Lewis Neal, Collin Martin, and Conor Doyle. What do you want to see from Ben Olsen, in either the starting lineup or in the way of subs?