As we come into the last MLS game before the World Cup semi-break begins, D.C. United stands above where many of us thought they would at this point in the season. They are tied for second place in the Eastern Conference, and have the third best points-per-game. On the other hand, the have dropped points in a number of winnable games against the bottom of the league, including the Columbus Crew and the Montreal Impact, the latter of whom happens to be this Wednesday's opponent. After looking at my projected lineup for tomorrow night's match, my question to all of you is this: what post-World Cup pickup do you think D.C. United most needs?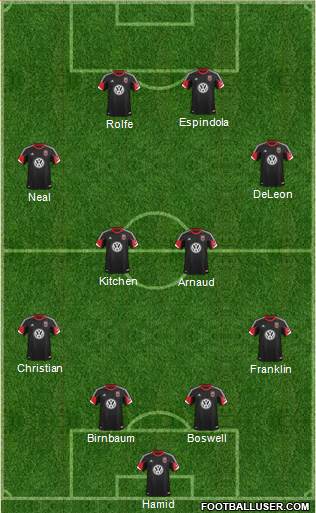 I feel like there are three prime candidates who need pressure put upon them in the form of a new signing. The first is obviously Nick DeLeon, who apart from flashes has looked ineffective and poor. With the injury to Chris Pontius, however, there is no one with whom Ben Olsen can replace DeLeon; both Lewis Neal and Alex Caskey are situational players, not meant for full-time starting in MLS as wide midfielders. And, if you ever want to move Chris Rolfe back to the front line with Fabian Espindola, that exposes the lack of depth on the wings even more.
Another place on the field that could use some pressure is central midfield. Luis Silva has not proved this year that he can be a starter for D.C. United, and has only Collin Martin behind him for the number 10 role. In defensive midfield, Perry Kitchen is a rock, and Davy Arnaud has played well, but the depth gets shaky after that. But given the effectiveness of Kitchen and Arnaud so far, combined with the fact that Jared Jeffrey, Collin Martin, Luis Silva, and Lewis Neal all provide depth here, this position is further down the wish list for me.
Finally, you could argue that there needs to be more depth at striker: after Fabian Espindola and Eddie Johnson, the other options are inexperienced or forcing Olsen to fill holes created elsewhere. Chris Rolfe is the obvious main backup here, but he is playing ever game on the left wing and his absence there creates another hole for United. After that, the choices are Conor Doyle, Luis Silva, and Michael Seaton. Seaton may get more extended minutes down the stretch this fall, but another option there may help competition.
Given the fact that United is likely only going to be able to bring in one player, in which position do you want it to be? Winger, striker, or central midfielder? Or do you have a different position in mind altogether?