D.C. United will meet the Columbus Crew this Saturday for the third time this season, and in the third different stadium. At this pace, it seems inevitable that these two teams will also meet in the US Open Cup, and then again in the playoffs, and then once a month until the end of time. The clash in Landover will happen immediately after the Spain-El Salvador game at FedEx Field, with ticket sales for the combo deal seeming brisk. Going into the game, however, there is one big question in the middle of the field for D.C. United.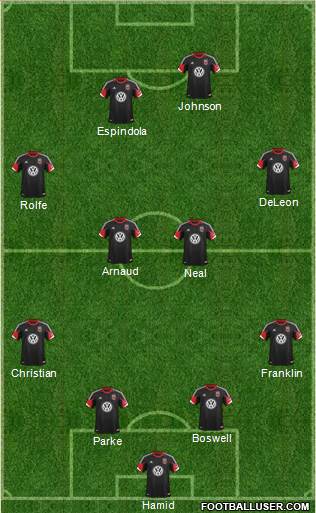 The big question for this lineup is, of course, which player will be selected to take Perry Kitchen's place, while suspended for yellow card accumulation. There are no obvious like-for-like replacements, so Ben Olsen will have to tinker with his lineup somewhat. My prediction is that Olsen will attempt to keep the same formation and use Lewis Neal as Davy Arnaud's partner, even though Neal is more like Arnaud than he is Kitchen. Another option instead of Neal would be to start Jared Jeffrey, although that is unlikely given his time in Richmond recently. Finally, Olsen could switch formations completely and start either Luis Silva or Collin Martin at the top of the diamond; however, such a large change is more unlikely without Kitchen at the bottom of the diamond.
The rest of the lineup is as you would expect, with Sean Franklin moving back into the starting lineup due to the injury of Chris Korb. With this lineup, the subs would be Andrew Dykstra, Steve Birnbaum, Taylor Kemp, Luis Silva, Collin Martin, Jared Jeffrey, and Conor Doyle. But the big question for the comments is this: What do you want Ben Olsen to do without Perry Kitchen, and what do you think he will actually do?