After a disappointing loss against the Portland Timbers, D.C. United must get back up and take on the Philadelphia Union this Saturday at PPL Park in Chester. Games against the Union are always testy affairs, and a red card is always a strong possibility even if we don't yet know which referee will be in charge for this game. However, I think that the new veterans on D.C. United can keep their heads against the Union, so perhaps they can play that to their advantage.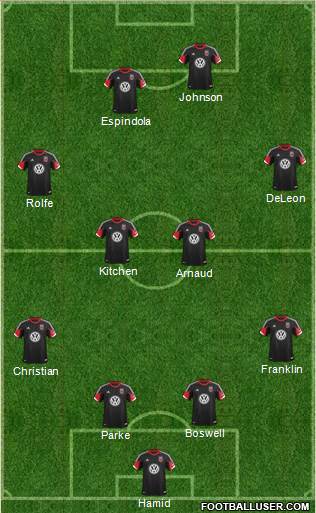 My guess is that the two D.C. United starters who were out injured last week, Sean Franklin and Eddie Johnson, will return to the lineup. This would make the lineup the same as the one that went on that five game unbeaten streak, and it will be Johnson's last game before he leaves for the United States men's national team pre-World Cup camp. Should Franklin not be able to play, Chris Korb will again step in and play right back. However, there is a little more debate about what to do if Eddie Johnson cannot play. My gut leans towards Conor Doyle starting again, but a strong case could be made for Luis Silva partnering Fabian Espindola. Silva will not, at least for this week, overtake Davy Arnaud as Perry Kitchen's partner.
With that lineup, the subs will be Andrew Dykstra, Alex Caskey, Nana Attakora, Lewis Neal, Conor Doyle, Chris Korb, and Luis Silva. Do you want to see a continuation of the 4-4-2 Ben Olsen has played over the last few games, or are you ready for something else?