After losing to the New England Revolution last week, D.C. United dropped one spot to third in the Eastern Conference. This Saturday, they take on the team that leapfrogged them, welcoming Sporting Kansas City to the friendly confines of RFK Stadium. But who will start for them in that game?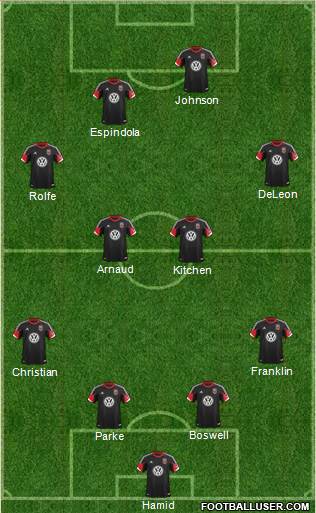 While nothing has yet been confirmed, Pablo Maurer is saying that sources are telling him that Eddie Johnson's red card will indeed be rescinded. If that is to be true, then Eddie Johnson will be starting up top against Sporting Kansas City, alongside his regular strike partner, Fabian Espindola. While not the largest of rests, two thirds of a game of rest, Espindola came on and proved how vital he is to this team. However, it looks like Espindola may have caught the illness going around the locker room; should he not be able to go, Luis Silva or Conor Doyle are likely replacements.
Chris Rolfe will hopefully be back and ready for this game as well, giving United back their two most potent threats. The rest of the midfield, in Perry Kitchen, Davy Arnaud, and Nick DeLeon, returns as well. However, something to note: both Perry Kitchen and Davy Arnaud will serve a one game suspension due to yellow card accumulation after their next card.
The back line will change, but I think that it will be Chris Korb coming off of the field to make way for Sean Franklin. The rest of the line stays the same with Christian Fernandez, Bobby Boswell, and Jeff Parke. With this lineups, the subs should be Conor Doyle, Andrew Dykstra, Luis Silva, Steve Birnbaum, Alex Caskey, Lewis Neal, and Chris Korb. Who do you all want to see start?