And like that, we put the win against the Houston Dynamo behind us and turn our eyes to the New England Revolution. We keep saying that Ben Olsen needs to rotate his squad at some point, but I don't know if he has any inclination to do so right now. The quote that he gave to Steve Goff was "We've got a lot of machines, I don't even know what they do, to let these guys recover." However, regardless of letting players rest, Olsen will need to get the backups some playing experience for the US Open Cup games and the Concacaf Champions league games that will be coming up this summer and fall.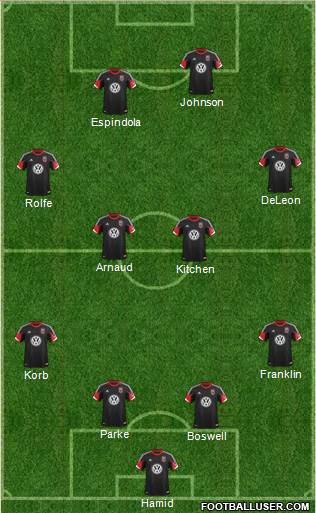 The main change will be that, with Eddie Johnson back and available for selection, he should slot back in at forward, sending Lewis Neal back to the bench. However, with the success of the partnership of Chris Rolfe and Fabian Espindola, it has me wondering if Ben Olsen should try and 4-3-3 with those three as the forwards, Nick DeLeon at the top of the midfield triangle, and with Perry Kitchen and Davy Arnaud at its base. Not that I think Olsen will try it, at least not yet, but let me know how you think that would go in the comments.
The other change that I am making is that Chris Korb comes in at left back for Christian Fernandez. Before these past few games, Korb's best stretch came as a left back in the 2012 season, replacing Daniel Woolard after he missed half of the season with a concussion. Based on current form, I think that Korb and Sean Franklin deserve to be the starting pair, with Christian having to prove in practice that he deserves his spot.
With this lineup, the substitutes would be Andrew Dykstra, Steve Birnbaum, Alex Caskey, Christian, Lewis Neal, Conor Doyle, and Luis Silva. What would you do this weekend against the Revs on the road?