Despite the fact that it is still Monday, we have to leave the Montreal Impact game behind us and turn our eyes to the Houston Dynamo. We are now reaching the point in the season where lineup predictions become difficult: mid-week games. Not everyone is going to be able to start three games in a week's span, and so Ben Olsen is going to have to make the difficult decisions of who to start, who to sub early, and who to sit completely.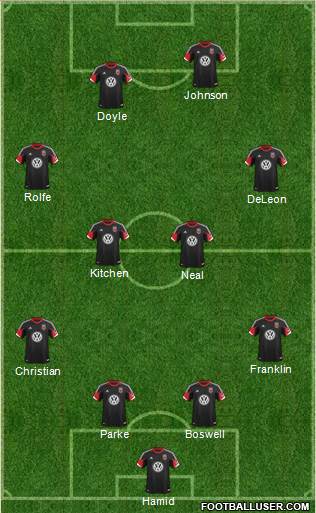 I know that sitting Fabian Espindola is crazy right now, and he is on a hot streak. However, he is going to need rest sooner rather than later, and with Eddie Johnson just scoring his first goal he needs to stay on the field. There may also be something to Johnson not having Espindola next to him to relay upon, forcing him to take more of the creative load. If the game is going south, Espindola is the first substitute off of the bench, preferably early in the second half.
Nick DeLeon is another candidate to sit, but I think that he stays in to try and work out his issues from the previous game. However, his performance against the Montreal Impact was fairly disappointing, so I could see Ben Olsen sitting him to make a point. If he were to sit, it would be for either Lewis Neal or Alex Caskey, depending on what Olsen wanted to do in central midfield.
Finally, the other starter sitting is Davy Arnaud, who has played in every game so far and is not a young man. Jared Jeffrey and Lewis Neal are the two options most like Arnaud on the bench, and Neal gets the nod from an experience standpoint. However, I would like to see Jeffrey getting some minutes, either in D.C. or down with the Richmond Kickers.
With this lineup, the bench would be Fabian Espindola, Davy Arnaud, Nick DeLeon, Andrew Dykstra, Nana Attakora, Steve Birnbaum, and Chris Korb. I'm sure there are plenty of opinions on how the squad should be rotated. So, what would you do if you were Ben Olsen?