Now that we have completely broken down the fact that Eddie Johnson will not be going to the World Cup, our eyes now turn back to his performance with D.C. United. As has been mentioned ad infinitum, Eddie Johnson has not been playing well so far this season; it is also part of the reason why he wasn't called up for the World Cup. He will obviously be in the lineup for this weekend's match against the Montreal Impact, but will he finally break his goalless streak?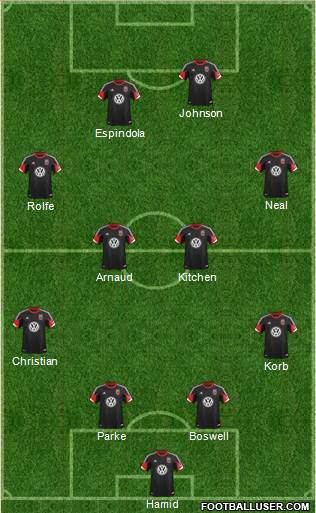 Besides Eddie Johnson, however, the key questions for the rest of the lineup are on the right side: Neither Nick DeLeon nor Sean Franklin played in the last game, and so their readiness for Saturday is questionable. More information about them will come out at today's practice, but I will assume that neither of them will be able to play; should that be the case, Chris Korb and Lewis Neal will make up the right side. Fabian Espindola will start alongside Johnson, Perry Kitchen and Davy Arnaud will hold down the middle, and Cristian Fernandez and Chris Rolfe will man the left side of the field.
With this lineup, the subs will be Andrew Dykstra, Alex Caskey, Luis Silva, Nick DeLeon, Steve Birnbaum, Nana Attakora, and Conor Doyle. We asked on the most recent episode of Filibuster whether or not we want to continue to see the central midfield pairing of Davy Arnaud and Perry Kitchen, so that is my question of the day to you. What is your preferred central midfield?