Ever since I started doing these lineup predictions, back on my old blog during the 2010 season, injuries, suspensions, bad play, and tactical considerations have changed the lineups on an almost weekly basis. And, with the assumed impending departure of Eddie Johnson to the training camp for the United States Men's national team, this consistency will not last for long. The game this Saturday against the Portland Timbers will provide a good test, as the team goes back on the road to try and get its first road win.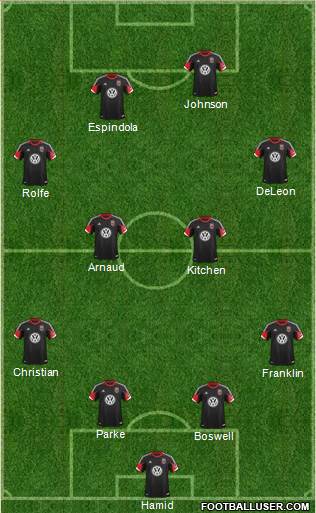 For the third week in a row, there is no reason to change the starting lineup (outside of the goalkeeper position). The attack is finally clicking, with Chris Rolfe providing an immediate spark, Nick DeLeon playing like his rookie season again, and Fabian Espindola destroying all who cross his path. After a slow start, Cristian Fernandez has started to adapt to this league and to his teammates, and Jeff Parke and Bobby Boswell's partnership grows better the more reps they get together.
The return of Luis Silva and Chris Korb to D.C. United's bench improves the quality of the substitutes available to Ben Olsen quite a bit. Joining them on the bench will be Andrew Dykstra, Alex Caskey, Conor Doyle, Lewis Neal, and Steve Birnbaum. While it looks like Birnbaum has passed Nana Attakora for the third center back spot, I would still like to see Birnbaum get some more game time in Richmond, and then called back immediately into the starting lineup should either Jeff Parke or Bobby Boswell get injured or need replacement for other reasons.
What do you think the starting lineup should be? If you agree with me, do you have opinions about who should make up the bench and who should be sent to Richmond?