With the hottest team in the league coming to town, D.C. United will be loathe to make any changes to their current lineup, especially since it has given them their first 8 points of this young season. And given D.C. United's current depth and injuries, I don't think anyone can expect anything different; the changes, should they happen, might come with the substitutions as players like Chris Korb and Luis Silva get healthy.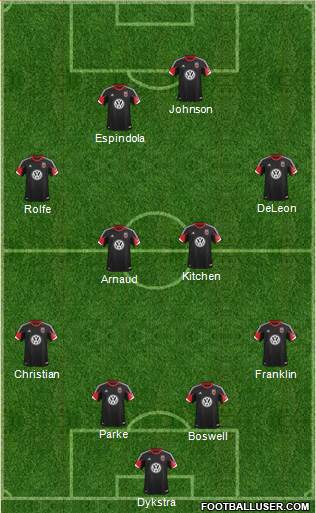 The lineup remains exactly the same as the past two weeks, even with Andrew Dykstra remaining in goal. Ben Olsen has shown a propensity for leaving Bill Hamid on the bench for a few games longer than absolutely necessary, to motivate him to beat out his competition in practice. It happened in 2012 when Joe Willis was playing well, and I think it is going to happen again now that Andrew Dykstra is playing well.
However, I do think that Luis Silva and Chris Korb will find their way back onto the bench for this game, with Silva likely to come in late as a replacement for Espindola after Conor Doyle has already come in for Eddie Johnson. He is going to have to fight to regain a starting spot, with Fabian Espindola locked in at forward and Davy Arnaud providing calm and smarts in the center of midfield. Chris Korb is much further away from a starting spot, which is where we all expected him to be after Christian was signed.
Joining those two on the bench will be Bill Hamid, Alex Caskey, Nana Attakora, Conor Doyle, and Lewis Neal. Do you all think that Ben Olsen will again stand pat with the lineup, or do you see more changes coming?