This game against the New England Revolution is coming just at the right time, with D.C. United meeting them as they are still trying to figure out their new look team. Teal Bunbury has not yet looked like the player he once was, and Diego Fagundez hasn't found the same spark that he had last year. But which D.C. United players will face the Dixie Wanderers?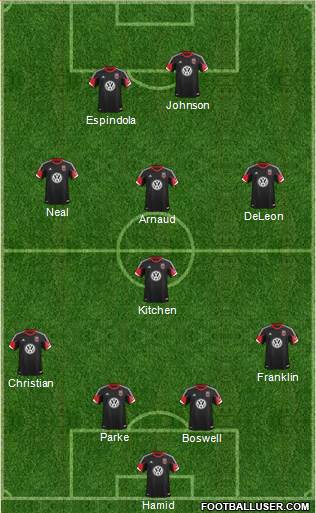 Collin Martin was only loaned to the Richmond Kickers for one game, but I do not expect to see him in D.C. United's 18 man gameday roster this weekend. Instead, Ben Olsen will go with the lineup that he chose after Luis Silva went out: Davy Arnaud in central midfield, with Lewis Neal and Nick DeLeon as the wide midfielders. Davy Arnaud in the middle reduces the limitations that we have seen when he plays wide, and getting Lewis Neal in the lineup over Kyle Porter is always preferable.
The rest of the starting lineup continues to remain the same. Fabian Espindola and Eddie Johnson started to work well together last week, and can hopefully continue to improve that relationship as Johnson returns from the men's national team's game against Mexico tonight. On the other hand, Jeff Parke and Bobby Boswell will continue to get starts; however, I have to think that Olsen is evaluating and comparing the performance of Nana Attakora and Steve Birnbaum in practice to both Boswell and Parke.
With this lineup, the substitutes would be Andrew Dykstra, Taylor Kemp, Alex Caskey, Conor Doyle, Jared Jeffrey, Nana Attakora, and Kyle Porter. The issue of who should replace Luis Silva has been addressed in another article, but feel free to suggest other changes to the lineup, formation or otherwise.