When D.C. United takes on the Columbus Crew this Saturday, it will be their first chance for revenge this season. As I'm sure you remember, the Crew convincingly beat United 3-0 in the opening game of the season, causing all of the fears and frustrations of last season to boil up once again. However, the D.C. United team that will face the Crew this week has made great strides since that first game, and a rematch is a perfect barometer to see just how far they have come.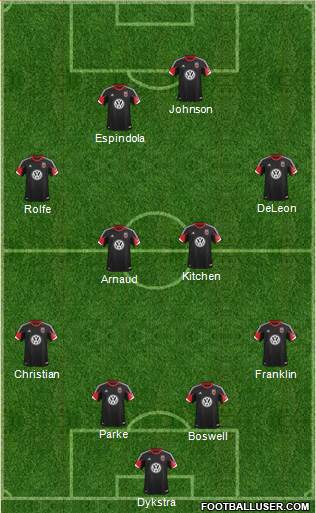 No one will be surprised to see that my projected lineup for this game is exactly the same as the lineup for last week's game against the New York Red Bulls, especially since Bill Hamid has still not yet returned to practice. The central midfield pairing of Perry Kitchen and Davy Arnaud need to have a better game containing Federico Higuain than Kitchen did with Luis Silva; pushing him wide and forcing him to put in crosses would be a success. Nick DeLeon and Chris Rolfe will man the wings, with Rolfe hopefully providing as much energy and creativity as he did against the New York Red Bulls.
The forward pairing of Eddie Johnson and Fabian Espindola will look to continue developing chemistry and rely on Espindola's current hot streak to hopefully put in a few goals. I don't think that Johnson's World Cup roster spot is in as much dangerous as most seem to think, but a goal or two in the next few games would go a long way towards reducing the stress of both United and USMNT fans.
With this lineup, the subs will be Joe Wills, Nana Attakora, Alex Caskey, Conor Doyle, Lewis Neal, Jared Jeffrey, and Taylor Kemp. Who do you all want to see on Saturday?