Regular season soccer is finally upon us, with D.C. United taking on the Columbus Crew at Robert F. Kennedy Memorial Stadium a few short days from now. The Crew are a team that D.C. United should beat at home, if the season is going well, and so they are a good test right off the bat. After some experimenting in the beginning of the preseason, Ben Olsen finally settled on a lineup during the Carolina Challenge Cup.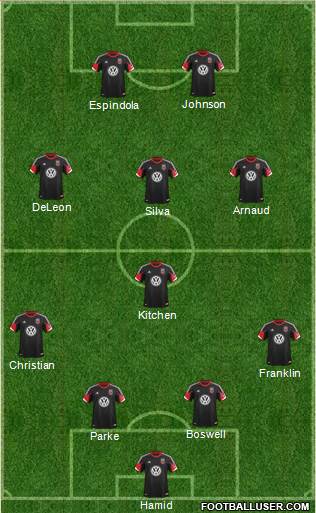 However, it is not the 4-3-2-1 that Olsen has used for much of the past season and a half. Instead, Olsen has returned to the 4-1-3-2 that he preferred at the beginning of the 2012 season. Instead of the role of pesky hard-working outside midfielder being played by Danny Cruz, Davy Arnaud now wears that mantle. Instead of Dwayne De Rosario, there is now Luis Silva in the attacking midfielder role. And instead of Maicon Santos or Hamdi Salihi, there is now Eddie Johnson and Fabian Espindola.
But if 2012 taught us anything, expect the formation to change over the course of the season as players get better and go through cold spells. The return of Chris Pontius in a few weeks will be the first hard decision Olsen will have to make; another will be the departure of Eddie Johnson for national team duty. And, of course, injuries and cold spells will strike players throughout the year. Olsen was able to manage those sorts of problems in 2012; the story of 2014 will be if he can do so again.
With this lineup, I think that the reserves will be Andrew Dykstra, Nana Attakora, Steve Birnbaum, Alex Caskey, Lewis Neal, Jared Jeffrey, and Conor Doyle. Who do you think Olsen will start on Saturday, and how do you think they will line up?