I said it on this week's edition of Filibuster, and I will say it again here. I think that this game is a reckoning for a number of players, in particular Bobby Boswell, Jeff Parke, and Luis Silva. Should the team continue to be as ineffective as they have been in these first two games, it may be time to make a change. Steve Birnbaum and Nana Attakora are waiting in the wings should either of the center backs be benched, and Collin Martin and Jared Jeffrey await an opportunity in the middle of the field should Silva be benched.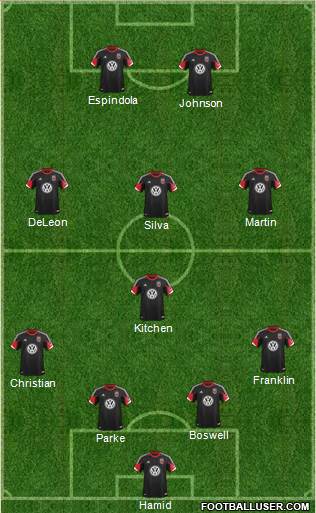 Speaking of Martin, he is the one change from last week's roster, with Davy Arnaud unlikely to be ready for this game after his collision with Michael Bradley last week. Kyle Porter is slightly more likely to actually start, but Martin fits in more with the pinched-in style that Arnaud has brought so far. Also, Ben Olsen already knows what Porter's strengths are and what his weaknesses are (crossing with his left foot being one of them), whereas Martin provides something completely different. Alex Caskey, acquired at the end of preseason from the Seattle Sounders, also has a chance.
With the rest of the lineup the same as the first two games, the substitutes are Andrew Dykstra, Taylor Kemp, Nana Attakora, Jared Jeffrey, Kyle Porter, Conor Doyle, and Alex Caskey. As your homework for this post, tell me what you think is more likely: a switch of personnel in the same 4-1-3-2 formation or the switch to a different formation, such as an empty bucket 4-4-2 or a 4-2-3-1?