Late Thursday night, Bradley Wright-Phillips finally sealed the collapse of Sporting Kansas City and booked the New York Red Bulls a ticket to face D.C. United. United have to travel to New York for this game, but face an old team on very short rest. The weather forecast for Sunday is sunny with a high of 50 degrees, so everything should be perfect for a battle between two MLS originals.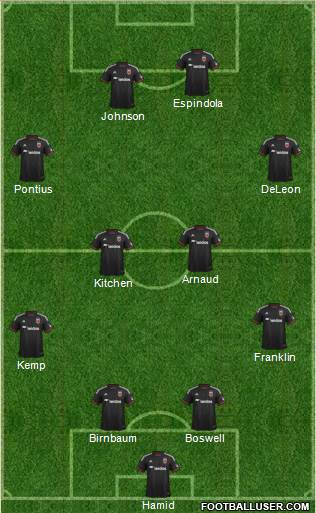 This projected lineup should come as no surprise. Davy Arnaud returns from resting his ankle to partner with Perry Kitchen, and Chris Pontius comes back to the left wing to hopefully . The main question for this lineup has to do with the fullbacks and whether or not Sean Franklin is healthy enough to play. If he is, I think we will see him at right back and Taylor Kemp at left back; if not, Chris Korb comes in as right back.
The rest of the lineup consists of Bill Hamid in goal, Steve Birnbaum and Bobby Boswell at center back, Nick DeLeon at right wing, and Fabian Espindola and Eddie Johnson up top. For the bench, Ben Olsen has been dropping hints that Luis Silva is ahead of schedule and could be on the bench for this game, but I don't believe that. Chris Rolfe has a higher chance, but reports from training make it seem like he doesn't have full confidence in his arm yet, so we may not see him either. I think the bench will be Joe Willis, Samuel Inkoom, Kofi Opare, Chris Korb, David Estrada, Jared Jeffrey, and Lewis Neal.
What do you think Ben Olsen will do on Sunday?