Despite the affront, I am happy that national teams chose not to chose as many D.C. United players as they could have. Had the world been a more reasonable place, instead of one run by Germans with questions about their leadership, United could have been missing four starters and one key sub instead of just one starter and one key sub. It makes me quake a little bit to think of how many players the team will be missing for this summer's Gold Cup. But, for today, let us put that from our minds and concentrate on the upcoming match against the Columbus Crew.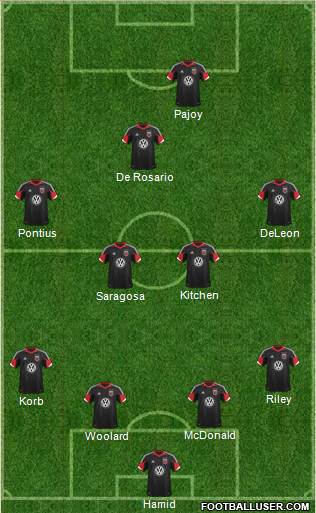 There is only one actual change in the D.C. United's lineup versus the Crew, but I believe that the context in which those starters are placed on the field is beginning to change. Obviously, with Dejan Jakovic away with the Canadian National Team, Daniel Woolard will step into his place in center defense. When Jakovic returns, I hope that Woolard can reclaim his spot from Riley, but that will have to wait.
However, for the first time that I can remember, Ben Olsen has been critical of Lionard Pajoy and his holdup play, telling the D.C. United website that "our forwards have to do a better job of holding the ball up for us." As we learned last year, every player has to earn their spot of the field; players like Bill Hamid, Chris Pontius, and Andy Najar sat for multiple games last year because they were not performing to the best of their abilities. While I don't think that Olsen will make a change yet, and nor do I think that there is anyone else ready right now to start for 90 minutes at forward, he has put Pajoy on notice. If he does not improve from last week's performance, we will see him on the bench sooner rather than later. Besides Pajoy and Riley, I could see Kyle Porter or Marcos Sanchez starting should the wing play continue to be this ineffective.
As for the subs, I think that we will see Joe Willis, Ethan White, Robbie Russell, Raphael Augusto, Kyle Porter, Carlos Ruiz, and Rafael Gladiador. I hope to see Augusto come in for De Rosario or Saragosa around the 70th or 75th minute and for Ruiz to come in for Pajoy around the same time. With John Thorrington out injured for 10-12 weeks, I think this could be Augusto's time to work his way into the lineup and nail down that spot. It begins with him getting some substitute appearances.
What do you all think we will see this weekend?