D.C. United plays Toronto FC this weekend in a game in which everyone knows that United will be playing backups and young players. However, there are still choices for Ben Olsen to make: whether or not he choses his veteran backups, like Carlos Ruiz, or whether he goes all in with the youth movement and gives the kids a chance. My preference, as you will see, is to throw the kids out there and see what happens.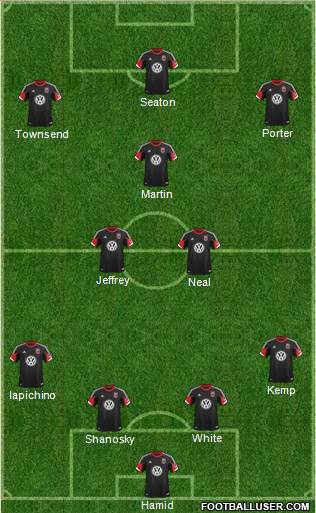 I think that the choice of goalkeeper in this game might give us a hint as to who is going to start in the US Open Cup final. I would be loath to run Joe Willis out into an important final without him having played in the past two months; if he does get the start on Saturday, then I think that there is a decent shot that he gets the start on Tuesday. However, I am going with United's undisputed top goalkeeper, Bill Hamid, because I think you just have to play your best players in a game of Tuesday's magnitude.
In the defense, Ethan White is the only regular starter who gets the start in this game, mostly because there is no one else to replace him. Similarly, I am not completely confident in Jared Jeffrey's ability to play 90 minutes, but he is back in full training with the team and, again, there really isn't anyone else to fill that role. With the rest of the young players that the team currently has, however, I feel like the formation could shake down into a 4-3-3, with Townsend playing wide left as he did in Richmond from time to time, with Kyle Porter on the other wing, and with Michael Seaton holding down the center. Collin Martin would be underneath to pull the strings. I might like to see Conor Doyle somewhere on the field instead of Kyle Porter, but I think Doyle is much more likely to get 30 minutes on Tuesday and will need to be sharper.
A diamond 4-4-2 would be another interesting lineup to try, but as we have mentioned many times on the site and the podcast, this team doesn't really have the personnel for a diamond, and especially not with the young kids. The formation I do not want is any one that includes Carlos Ruiz and Sainey Nyassi on the field at the expense of any of the team's younger players. At this point, we know what these two players are and they are not MLS quality.
With this formation, the subs would be Joe Willis, James Riley, Dejan Jakovic, Carlos Ruiz, Sainey Nyassi, John Thorrington, and Conor Doyle. What do you all want to see against Toronto this weekend?