This weekend's match against the New England Revolution is the last tuneup before the US Open Cup final against Real Salt Lake. With the Open Cup final only three days after United's match against Toronto FC (the one that's on Monumental Network), there is little chance that any of the major starters will feature in that game. This game will give us a preview of what Ben Olsen's plan will be in the final, and its the same plan we have seen for the past few weeks.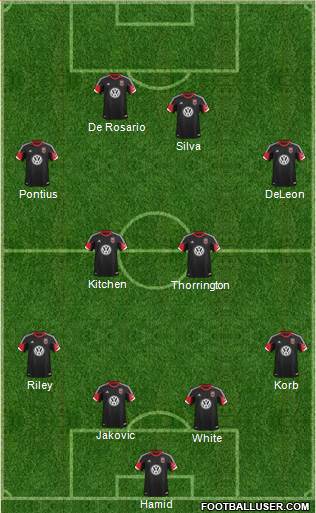 The upgrade from Kyle Porter on the wing to Chris Pontius on the wing helped spur the false nine 4-4-2 into action. If you look at the positional report, Pontius actually played higher than either Dwayne De Rosario or Luis Silva, turning this double false nine formation into a sort of unbalanced 4-3-3. As we talked about in the most recent episode of Filibuster, Pontius is possibly the most important player on the team; there is no poor man's replacement for him on the team right now, which is something that needs to be addressed in the offseason.
The major questions remain in defense: While Ethan White had a solid, if unspectacular, game, Dejan Jakovic was his normal, frustrating self. His performance on Robbie Keane's goal was unbelievable, in that I cannot believe that he capped off being spun like a top by Robbie Keane with slide tackling into Bill Hamid. But I don't see Olsen changing center backs at this point, not until after the Open Cup final. Hopefully we can see Conor Shanosky and Ethan White partner together throughout the month of October, to at least see what we have. If Daniel Woolard recovers in time, he would likely start this match and will likely start in the Open Cup final.
With this lineup, the subs would be Joe Willis, Dennis Iapichino, Daniel Woolard, Michael Seaton, Lewis Neal, Conor Doyle, and Kyle Porter. What do you all want to see in this last tuneup before the Open Cup final?
More from Black And Red United: