D.C. United is likely to run out in the same lineup that it has for the majority of this season: A 4-2-3-1, with two holding midfielders and a loan striker. The main decisions that Ben Olsen will have to make for this team is whether to start Connor Doyle instead of Dwayne De Rosario or to go with the double false 9 formation which has yet to provide any real goal scoring opportunities. If John Thorrington is completely healthy, this is the formation that I expect to see; you've seen it so many times that I don't need to give you the graphic.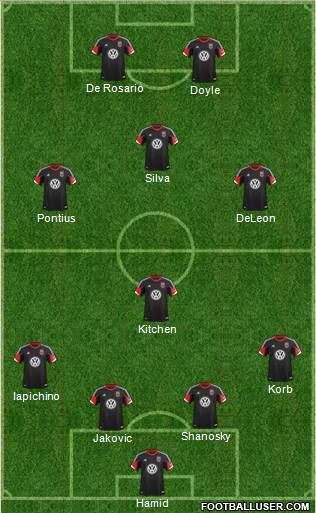 But what if Olsen decided to try something that, as far as I can tell, has only been tried once this season: A return to the 4-4-2 diamond? The midfield diamond in the March game against the Columbus Crew featured Perry Kitchen, Chris Pontius, Nick DeLeon, and Dwayne DeRosario, all of them underneath Lionard Pajoy and Rafael. But if John Thorrington is out, and with Jared Jeffrey likely out, I see no reason not to give the diamond another chance. That would give us a midfield of Perry Kitchen, Chris Pontius, Nick DeLeon, and Luis Silva all underneath a strike partnership of Dwayne De Rosario and Connor Doyle. For a team that cannot score, it gets all of their best attackers out on the field.
Obviously, this formation exposes the weak back line even more, but something has to change. And with Daniel Woolard likely out for this game, I went with Conor Shanosky as the replacement. Olsen has shown that he is loathe to play both Ethan White and Dejan Jakovic at the same time, and I expect him to continue that trend.
With this formation, the subs would be Joe Willis, James Riley, Ethan White, Kyle Porter, Collin Martin, Michael Seaton, and Taylor Kemp. What is your preferred lineup for this Saturday against the Galaxy?
More from Black And Red United: