After D.C. United's somewhat stunning triumph in the semifinal of the U.S. Open Cup, they now have 8 games to stay in a rhythm and prepare for the U.S. Open Cup final, which will be held in Sandy, Utah on October 1. The very first of those tune-up games takes United to Chester, Pennsylvania to play against the Philadelphia Union. A form to United is finally taking shape, and so keeping those players healthy and playing well is paramount to the rest of the season.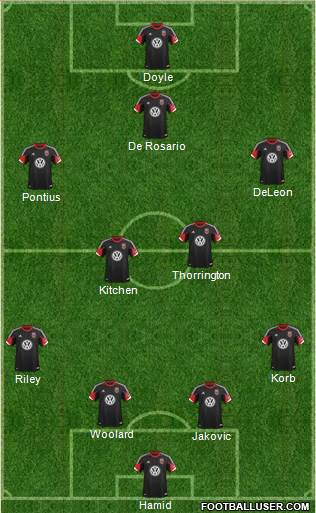 Luis Silva left the Open Cup semifinal match against the Chicago Fire with a possible concussion. The initial tests indicated that he did not suffer one, but given their history the team will likely want to play it extra safe. I expect that Silva will start the game on the bench, get some time late in this game, and then be ready to start against the Montreal Impact. In his place, Dwayne De Rosario will slip back into the roaming role and Conor Doyle will come back to play the striker role. On the other side of the injury coin, Chris Pontius will come back to the starting lineup and relegate Kyle Porter to the bench.
The other main debate is between John Thorrington and Jared Jeffrey. Over the next 8 games, United will need to keep Thorrington sharp while giving Jeffrey enough time to both develop and to push Thorrington for the starting role. For this game, I think that means that Thorrington will start but that he may get pulled around the 70th minute, but for more on this topic, check out Adam's piece. I think that this is also the time to get Bill Hamid back into the lineup and on a role towards that Open Cup final. Ben Olsen has said Joe Willis is his keeper for the Cup thus far, but we all know that Hamid is the better keeper overall right now.
With this lineup, the subs would be Joe Willis, Ethan White, Taylor Kemp, Kyle Porter, Sainey Nyassi, Jared Jeffrey, Luis Silva. Who do you want to see start against the Philadelphia Union?
More from Black And Red United: