As D.C. United's season enters the final third of the year, you start to see a few glimmers of hope for next year. The absolute despair of June has now begun to pass, as the fans move through the five stages of grief and because there are now a few players on the team that might actually be able to contribute on a good D.C. United team next year. Balancing getting those players time with keeping the best players sharp for the US Open Cup final is Ben Olsen's main job these next 6 games.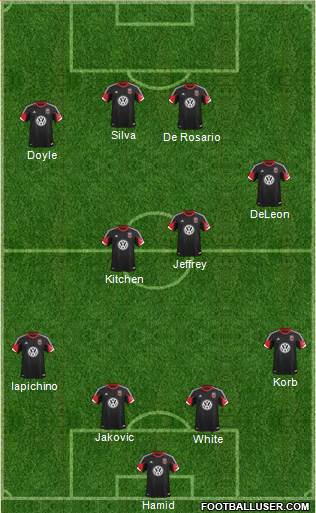 As long as Chris Pontius is not healthy, Conor Doyle should be given a shot at left wing over Kyle Porter. At this point, we know what Porter can do and its not good enough to be a starter in MLS. With Doyle at left wing, the team can get all of its best attacking players on the field and allows Doyle the space to cut in from the left, even if it is a strange-looking and off-balanced formation. We discuss this point in the latest episode of Filibuster, so listen to our insights there as well when it posts later today.
There is also the ever-present question of John Thorrington or Jared Jeffrey. The goal for these next 6 games, before the Open Cup final, should be to give both of them chances and to find out which one pairs the best with Perry Kitchen. With that mindset, I would give Jeffrey a start this weekend but I would not be at all surprised to see Thorrington start.
But whereas Thorrington and Jeffrey are both solid players, United's center backs are not. Daniel Woolard and Dejan Jakovic were both awful last week, so why not return Ethan White to the field in place of one of them. I am partial to giving the White and Jakovic combination another shot, but getting him on the field in either spot couldn't be worse than last week. Putting Conor Shanosky next to Dejan Jakovic would be something I would like to see in a couple of weeks, as I assume that Shanosky is with the Richmond Kickers during their playoff run. And now that he has a full week of practice under his belt, Dennis Iapichino could very well get the start over James Riley.
With this lineup, the subs would be Joe Willis, Daniel Woolard, John Thorrington, Lewis Neal, James Riley, Kyle Porter, and Collin Martin. Who do you all see starting this weekend against TFC?