The Colorado Rapids have quietly put together a good team, after starting winless in the first five games and everyone writing them off as another dire Colorado team. Their win last night against the New York Red Bulls leaves them tied for the last playoff spot in the Western Conference and one point behind the LA Galaxy. Their last two wins have been particularly impressive, beating the top two teams in the Eastern Conference and scoring six goals in those two games to boot. As with all games at this point, this one will be a particularly tough for D.C. United to try and get a result.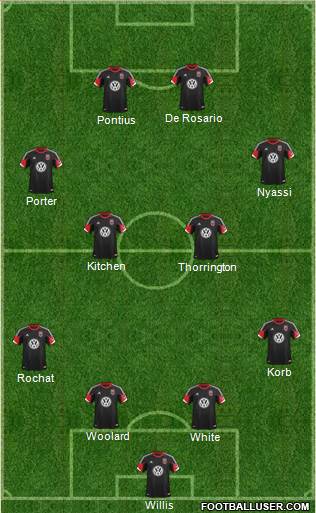 After this game, Jared Jeffrey will become a much needed new option in the midfield, but that won't be until the team receives his International Transfer Certificate. So without his services, D.C. United will be back to the midfield that we all know: John Thorrington and Perry Kitchen central, with Kyle Porter and Sainey Nyassi wide. I wouldn't think that Nick DeLeon would be ready to go 90 minutes a few days after he couldn't make the 18, but the team needs his creativity back as well. Chris Pontius is a lock to start up top, and hopefully Dwayne De Rosario is healthy enough to at least go 55 minutes.
Alain Rochat may be a fine stand-in for John Thorrington, but whenever he moves to the midfield it means that James Riley comes onto the field. Ergo, I think Rochat's fate is to remain as a fullback and Olsen will have to find other ways to spell or replace Thorrington. Just like the midfield, there are not really any other options besides the four players you expect to start: Ethan White and Daniel Woolard in the middle, and Alain Rochat and Chris Korb wide.
With this lineup, the bench would be Andrew Dykstra, Conor Shanosky, James Riley, Marcelo Saragosa, Casey Townsend, Taylor Kemp, and Lionard Pajoy. Until the transfer window opens and signings are made, this is the best team that Ben Olsen can send out there; until those signings are made, this team is going to continue to struggle.