With only three days between this game and the U.S. Open Cup semifinal in Chicago, it is more than proper to declare the game against the Montreal Impact a tuneup. For certain players, perhaps like John Thorrington, that might mean that minutes will be managed, allowing him to be fresh for that upcoming contest. For others, such as Dwayne De Rosario, that might mean more extended time as he tries to get his sharpness back after a long absence.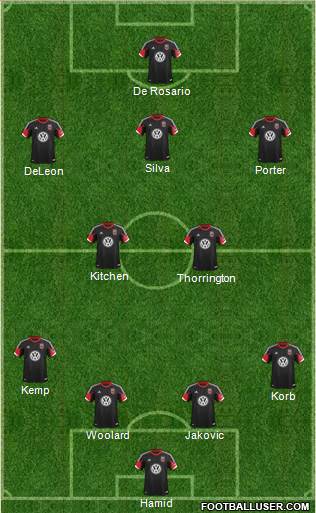 The options in attack are based on the health of Dwayne De Rosario, who I expect to see starting alongside Luis Silva, with DeRo operating as a sort of false nine and with Silva playing just underneath him. Neither player is really suited to lead the line, but they are D.C. United's two most creative players right now and so they have to both be on the field. Chris Pontius is still injured, and required to be in Kansas City for league events, and so Kyle Porter will start in his place.
There is also a battle brewing in central midfield. John Thorrington still has the lead on one spot, especially with the Open Cup still looming, but Jared Jeffrey's performance against New England has me interested. If Perry Kitchen is 100%, I think he will get the start, but Jeffrey will be pushing both Thorrington and Kitchen, which can only make them better. Competition all over the field was one of the factors that made the team good last year, and so bringing in quality competition will help all players get better.
With this lineup, the subs would be Joe Willis, James Riley, Ethan White, Jared Jeffrey, Conor Doyle, Sainey Nyassi, and Lionard Pajoy. What do you want to see in the tuneup against the Montreal Impact?