After their fairly typical loss to the Vancouver Whitecaps, D.C. United must now travel across the country on short rest to take on the Seattle Sounders. That means the starting statuses of John Thorrington, Dwayne De Rosario, Chris Pontius, and Nick DeLeon are all up in the air. That also means that Ben Olsen might have to use some unconventional lineup choices in order to get through the slew of games that are scheduled before the Gold Cup starts in earnest.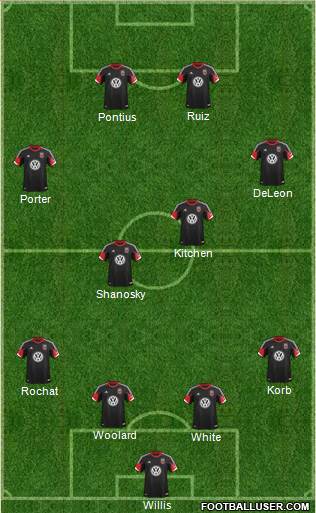 The defense is likely to stay the same, but almost every other position is up for grabs. Conor Shanosky is an interesting puzzle. He has the size and the ball skills to be a modern center back in MLS, but was brought up as a defensive midfielder throughout his Academy years. I highly doubt that Ben Olsen is going to have John Thorrington play 90 minutes for all four games in a two week span, so why not give Shanoksy a chance in his place? In this setup, Perry Kitchen would actually play the Thorrington role as the box to box midfielder, while Shanosky would play slightly behind him as the one who breaks up play.
In the attack, Nick DeLeon returns to right midfield and Kyle Porter continues at left midfield, with at least one of them likely to be subbed off around the 70th minute. Chris Pontius is too important to leave on the bench, so he will start next Carlos Ruiz. Dwayne De Rosario will be one of the first subs off the bench, but he is another player that I don't think Olsen will start four games in two weeks.
With this lineup, the subs would be Andrew Dykstra, Brandon McDonald, James Riley, Taylor Kemp, John Thorrington, Sainey Nyassi, and Dwayne De Rosario. What do you all think we will see tomorrow night in Seattle?