After a win against the San Jose Earthquakes in league play, and the intervening win against the New England Revolution in the US Open Cup, D.C. United is one win away from a bona fide winning streak. Its not going to take the stink off of the season, but it would be nice for the team not to finish in last place in the league. United will attempt to move out of the league basement against the Vancouver Whitecaps, a team that has been prone to hot streaks and cold streaks.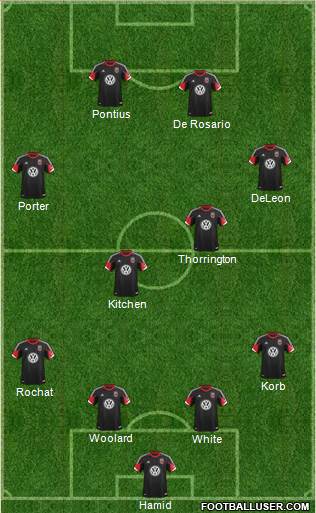 In the Open Cup match, Ben Olsen finally went with a lineup for which many of us have been calling: Pairing Dwayne De Rosario and Chris Pontius up top, without a traditionally target striker. I think that we will continue to see this setup for at least the next few games, because at this point Kyle Porter is playing better than any of D.C. United's forwards. When the team signs a new forward in the transfer window, Porter may return to the bench, but not until then. And hopefully, Lionard Pajoy will now be locked into the role that is best for him: Playing the last 20 minutes of a game to help pressure the ball.
Bill Hamid will start in goal for the last time before he leaves for the Gold Cup, which will likely keep him out for the entire month of July. In front of him, the only changes will be Alain Rochat for James Riley and Ethan White for Conor Shanosky, should he be healthy enough to play. With this lineup, the subs would be Joe Willis, Conor Shanosky, James Riley, Taylor Kemp, Carlos Ruiz, Lionard Pajoy, and Marcelo Saragosa.