D.C. United's chance to salvage anything at all out of this season continues tomorrow night at 7:00 at the Maryland SoccerPlex. There they will take on the New England Revolution in the quarterfinals of the US Open Cup. As we have mentioned, this is all that D.C. United has left and so they will throw everything that they have into this game. A win will put United on the road against the winner of the match between the Chicago Fire and Orlando City SC; a loss will end any chance of on the field accolades for the team this year.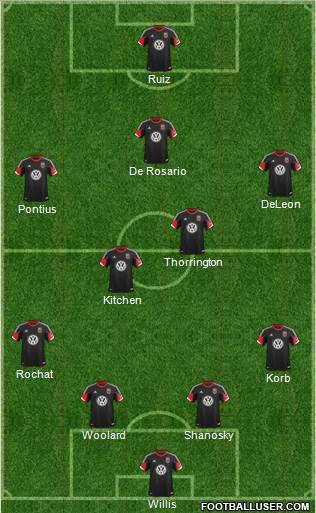 Dwayne De Rosario was rested specifically so that he could take part in this match, so I expect to see him return to his traditional role. His return will push Chris Pontius back out wide and relegate Kyle Porter to the bench. Casey Townsend will not start in this game, but I think that Carlos Ruiz might actually have a chance to do so, with Rafael about to be released and Lionard Pajoy being Lionard Pajoy. The rest of the offense is the same, with Perry Kitchen and John Thorrington running the middle of the field.
I hope that Ethan White is ready to play after being hit with an egregious elbow,, but I would not blame the team for giving White a break to make sure he is completely healthy before letting him play again. That means that Conor Shanosky is likely to start alongside Daniel Woolard in central defense, and Shanosky has been staking a good claim that he should be the third center back on this team and not either of the players who began the year as the starting center backs. While I am fine with what Woolard has been doing, at some point I do really want to see White and Shanosky together for an extended period of time.
With this starting lineup, the subs would be Bill Hamid, Taylor Kemp, Ethan White, Casey Townsend, Sainey Nyassi, Lionard Pajoy, and Kyle Porter. Who do you think we will see tomorrow night in Boyds?