As some isolated parts of D.C. United slowly show signs of life, such as Dwayne De Rosario and Nick DeLeon, the team as a whole continues to sputter. In the San Jose Earthquakes, United meets a team that is also struggling to reach the heights to the previous season, although they have not fallen nearly as far. The Goonies have gotten rid of their championship winning head coach, Frank Yallop, less than a full season after he won the Supporter's Shield, a move that has yet to be fulled explained from either side. But the Earthquakes are coming off a win against the Colorado Rapids, and only Chivas USA is in a worse situation than D.C. United right now.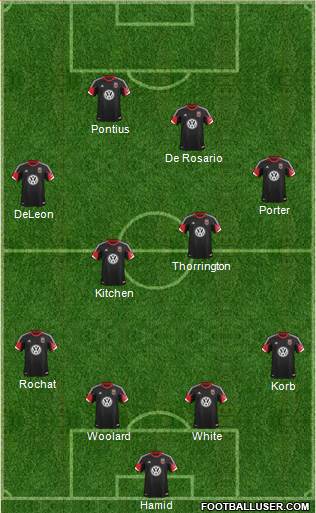 Brandon McDonald's one week foray back into the starting lineup was less than stellar, getting beaten on a ludicrously long free kick for Robert Earnshaw's goal. It has been mentioned in the comments, but perhaps the loss of Pat Onstad, who was in charge of setting marks on free kicks, has been a bigger blow to the defense as a whole than initially thought. If Ethan White is healthy, he should slot right back into the starting lineup in place of McDonald. Daniel Woolard has been exactly himself as a center back: unspectacular, but solid. Being in the center also allows him to mask his lack of speed, which had led to him being regularly beaten on the dribble by wingers. Dejan Jakovic or Conor Shanoksy should get a chance if White cannot go.
The only mildly bright spots on offense for D.C. United right now are Dwayne De Rosario and Nick DeLeon, so they will obviously start. Chris Pontius, should he have recovered from his concussion, likely to his typical left winger position. Should Kyle Porter also be healthy, we may see Pontius move next to De Rosario in an effort to get him back on track as well. If not, Carlos Ruiz will likely win the crapshoot that is the D.C. United forward corps for this week.
With this lineup, the subs would be Joe Willis, Brandon McDonald, Dejan Jakovic, Taylor Kemp, Carlos Ruiz, Rafael, and Casey Townsend. What are you preferred lineups? Have any wild tactical shifts that Ben Olsen might do well to try?