With a win in the US Open Cup now behind us, the attention shifts to D.C. United's weekend game against Toronto FC. And if there was ever a team that was built to be a slump-buster, besides this year's United, it is this TFC team. After some bold words from Kevin Payne in the preseason and an early victory over Sporting Kansas City, the team has regressed to what they have been in years past. A win against Toronto would actually vault United out of the basement of the league and put the team "hot" on the heels of Chivas USA and the Chicago Fire. But can United use this Open Cup victory to spur any of that?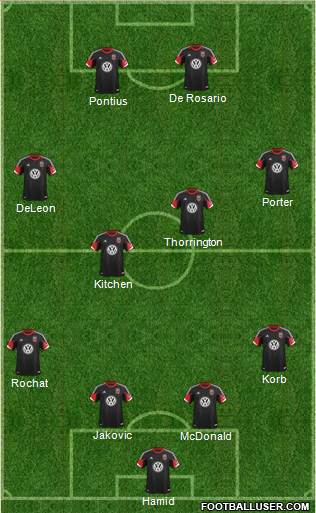 The only change in the attacking half of the lineup is to bring Kyle Porter back in and take Casey Townsend out, but that depends completely on the health of Chris Pontius. Both fulfill the charging around the field aggressively mandate, but Townsend is always a higher risk for a card. If Pontius is unable to go on Saturday, that means that either Townsend, Lionard Pajoy, or Rafael will start; for the sake of everyone's sanity, I will just predict that Pontius will be fine.
The starters on the back line also depend on health: Ethan White, even though he did not play that well in the Open Cup match, was still likely to start until he picked up an injury. With that in mind, I think that Brandon McDonald makes his return to the starting lineup, partnered hopefully by Dejan Jakovic. Chris Korb will be on the right, and new United acquisition Alain Rochat should make his debut on the left. If both Jakovic and White cannot go, Daniel Woolard will slip back into central defense. And, of course, Bill Hamid comes back to start at goalkeeper.
With this lineup, the subs would be Joe Willis, Ethan White, James Riley, Raphael Augusto, Casey Townsend, Rafael, and Lionard Pajoy. Who do you all want to see against TFC?