Believe it or not, D.C. United has another match this weekend, against league leading FC Dallas in Frisco, Texas. And with the current lineup failing to get results, it may be time to experiment even further. The whole point of the USL Pro-MLS Reserve League loan agreement was to get the young players at the end of each team's bench some quality experience so that they would be able to break into the main team at some point. For D.C. United, however, that time may be coming far sooner than anyone has anticipated. At this point, is there any reason not to give players like Casey Townsend, Taylor Kemp, Ethan White, and Conor Shanosky a chance at starting for D.C. United? They certainly can't do any worse than how the team has done so far, and the extended run out might finally answer the questions about whether they are quality starters, quality backups, or pieces that need to be replaced.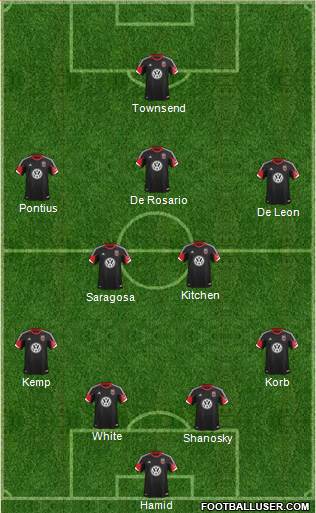 I'm not sure about how the logistics of loan deals are structured, but I am fairly sure that United could recall any or all of these players, provided that they (at some point) send replacements down to Richmond. A few weeks ago there were only three D.C. United players in Richmond for a Kickers game, so the rule must not be hard and fast that there must be four players at every game. But at some point, some players will have to be sent down to accompany Michael Seaton and Andrew Dykstra.
Admittedly, not all of these players will start for D.C. United this weekend; I just don't see the coaching staff making such wholesale changes yet. But when the team is this bad, any and all solutions should be examined. With this lineup, the subs would be Joe Willis, Dejan Jakovic, Brandon McDonald, Raphael Augusto, Kyle Porter, Rafael, and Lionard Pajoy. Do you all want to see the youth movement, or is there an alternative lineup that you would want to see?