I am worried about Chris Pontius' groin. One more injury takes it from freak injury status to recurring injury status, and a recurring muscle injury is not a good thing to have with a team's best player. And the way that Pontius has been playing so far this season, it is not unreasonable to think that the groin has been bothering him throughout this young season. I don't know if he needs antler powder or German platelets or a dedicated masseuse to fix it, but this should be somewhere that D.C. United's new money can really make itself known. Whether it is the trainers or the field or the stretching regimen, figure out these muscle injuries.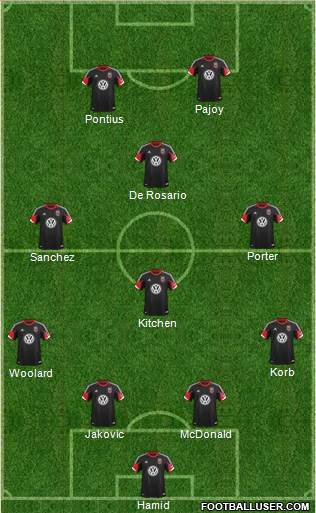 Should Pontius be healthy, I predict the same lineup that I predicted for United's last game. Kyle Porter and Marcos Sanchez gave the best performance that United has seen so far this year from its wingers, although that is not saying much. Pontius can still drift wide to receive the ball and then cut inside, which has been his typically dangerous move. We all know that Pajoy will start, which moves Dwayne De Rosario back to the point of the diamond midfield. Something has to be tried to jump start the attack, and Pontius at forward was effective in short spurts last season.
The defense should be the same as it has been all year, with the hope that Brandon McDonald will not have another epic meltdown; if he does, Ethan White's return tot he starting lineup could come as soon as this weekend. The Daniel Woolard experiment at center back has already been tried and has failed this season, and Ethan White has taken back his hold on the third center back position. With this lineup, the subs should be Joe Willis, Ethan White, Taylor Kemp, Raphael Augusto, Nick DeLeon, Carlos Ruiz, and Casey Townsend.
What do you all think we will see this Wednesday?