Until the summer transfer window opens on July 8, there is not much that Ben Olsen can do to get in reinforcements. Most of D.C. United's players have killed any trade value that they once had, and if any haven't its probably the few players that the team desperately wants to keep. So, until then, Ben Olsen may want to tinker with the existing parts that he has, to see if any of them can be starters now, could be starters with more development time in Richmond, can be useful cheap depth, or should be cut.
In that vein, I went with a more attacking lineup, but one in which Olsen gives Conor Shanosky a chance a center back for the second game in a row and for his first ever league start. Taylor Kemp could also get the chance either with or instead of Shanosky, but with his performance in Richmond he may be closer to the front of Olsen's mind.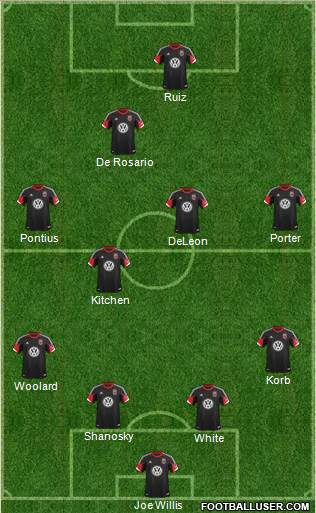 The only other major change from the game against the Portland Timbers is that Carlos Ruiz and Dwayne De Rosario get the start together up top for the first time this year as well. Will our early season signing outperform the captain and designated player? It is a distinct possibility, given DeRo's current form. The rest of the formation is in the same shape, but just showing minor changes.
With this lineup, the subs would be Andrew Dykstra, Brandon McDonald, James Riley, Marcos Sanchez, Raphael Augusto, Lionard Pajoy, and Casey Townsend.