Just three days after another discouraging loss in MLS play, this time to the Portland Timbers, D.C. United travels 100 miles south to take on their USL Pro affiliate, the Richmond Kickers in the third round of the US Open Cup. The two teams are a stark contrast of results so far. We all know about D.C. United's 5 points thus far on a 1-9-2 record; the Kickers have not yet lost a game this season, with 18 points from a 5-0-3 record. The Kickers' offense has been clicking so far this season, with 4 separate 4-1 victories and with only two games in which they have scored less than two goals.
The Kickers typically play out of a 4-2-3-1 formation, although injuries and D.C. United call-ups forced them into a 4-1-4-1 in Friday's game against the Harrisburg City Islanders. The Kickers will likely try their hardest to play with two defensive midfielders to give their back line a little more protection against United's attack.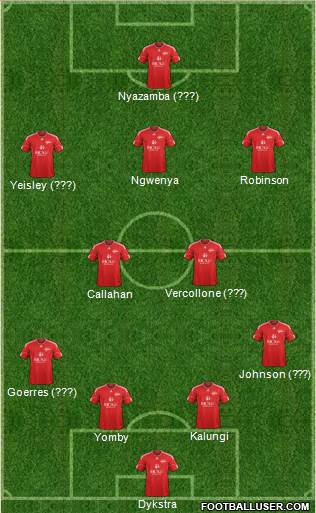 The strongest part of the Kickers' defense is in the center and is anchored by United loanee Andrew Dykstra. For all the praise that Bill Hamid and Joe Willis rightfully get, Andrew Dykstra is no slouch himself. He started 17 games for the Chicago Fire in 2009 and 2010 and won the USL Pro Playoffs with the Charleston Battery last year. While he started a little shaky, he has really come on in the last few games and was the main reason that the game against the Harrisburg City Islanders was a 2-0 victory rather than a 2-2 tie. His distribution has also come alive, with quick throws that reach the center circle and start attacks rather than aimless punts of the ball upfield.
In front of Dykstra are Henry Kalungi and William Yomby. Kalungi is a Ugandan international and was on trial with D.C. United in the preseason, but Yomby has been even better so far this season. The two are big and physical center backs who can win almost any ball in the air. Kalungi has been coming back from an injury and from Conor Shanosky beating him out and looked a little shaky in the last few matches; however, he played the first match of the season at defensive midfield and is good with the ball at his feet. The Kickers will match up well physically and do not typically give up goals on free kicks, but the (theoretical) skill on the ball of Dwayne De Rosario, Carlos Ruiz, or Chris Pontius should be able to take advantage if they can find some space.
The question marks at fullback are because of injury. Rookie fullback Juan Arbelaez and player-coach Sascha Goerres have both picked up slight knee injuries recently, and former FC Dallas draft pick Alex Lee has not been seen on the field in a few weeks. The solution last week was to put Shane Johnson, who is normally a center back, at right fullback. Johnson has been put into this position a number of times this year and last; while he is no threat going forward, he is solid defensively. On the other side, if one of Arbelaez, Goerres, or Lee is healthy, they will start. If not, Luke Vercollone will likely slide into that position. This is where D.C. United should focus their attack and where Kyle Porter and Chris Pontius could shine: an out of position center back and a third choice left back should be easy for them to exploit.
The focus of the attack will depend on where Luke Vercollone is deployed. Vercollone was not expected to return to the Kickers this season and was on trial with the Colorado Rapids this preseason; however, his return for his sixth season in Richmond has given the Kickers a utility man that can play defensive midfield, winger, or fullback. If he plays from defensive midfield, he will be the cog that starts the attacks by either spraying balls out wide to the wingers or getting the ball to Joseph Ngwenya in advanced positions. His defensive partner, Mike Callahan, is more the bulldog type: a good tackler who shuffles the ball quickly, but doesn't have the accuracy on the longer range passes that makes Vercollone so effective. Should Vercollone shift elsewhere, the Kickers will likely shift into a 4-1-4-1, with Stanley Nyazamba playing alongside Ngwenya and Michael Seaton may get a start up top.
But whether Vercollone starts in the middle or out wide, that width is how the Kickers attack. Brian Ownby, the Kickers' usual left winger, will not play in this game because he is being used by the Houston Dyanmo in their Open Cup matches. Jason Yeisley and Sascha Goerres have also played there, but both have picked up injuries and may not play.
The big discovery of the Richmond Kickers' offseason was the signing of Nate Robinson, a rookie winger out of the University of Detroit Mercy. Robinson's parents had moved from Michigan to the Richmond area, and he decided to try out for the Kickers' at the second pro tryout a week before the season started. After winning a starting spot in the third game of the season, Robinson has gone on to score one goal and create five assists in league play. His game is built on speed and dribbling ability: if he gets to the endline he can cross the ball in or he can use his quickness to cut back and pass to the onrushing Ngwenya or Nyazamba. Robinson also takes all of the corner kicks and free kicks, so coach Leigh Cowlishaw has faith in his abilities. More than any other non-loanee on this team, I see Robinson getting a shot at MLS sooner rather than later.
We have mentioned Joseph Ngwenya, but I am sure you are wondering how the player who missed that shot in 2011 against Portland has been so effective for the Kickers. And when he first signed for Richmond, I had the same question myself. But Ngwenya is being used as an attacking midfielder rather than a target forward, and his dribbling ability and his strength allow him to be a technical distributor and goal poacher. The Kickers offense does not really use a traditional target forward, but a more distributive model. The ball comes from the center backs or defensive midfield and then is cycled out to the wings; the wings then get the ball into the center, where Ngwenya has the choice to attack himself or to set up someone else. Ngwenya isn't a true nine, but for this level he is a truly effective false nine. The battle between Perry Kitchen and Joseph Ngwenya will determine who wins this game.
Ngwenya, Robinson, and the rest of the attacking crew will keep the back line of D.C. United on their toes. They are going to run at them and Conor Shanosky, Ethan White, and Chris Korb are going to have to defend properly and not make mental mistakes in order to defuse them.
Most of the time when a higher division team takes on a lower division team, you expect their overall talent level to shine through and carry them to victory. But even last year, when the team was in the midst of its May hot streak, the Kickers forced extra time and only a Branko Boskovic free kick assist allowed United to escape. But this year's United team is much worse than last year's, and this year's Kickers team is better than last year. D.C. United should win this game, even with their form, if they start the lineup that Jason suggests; the question is if they can get out of their own heads long enough to actually do so.