The great Nick DeLeon as attacking midfielder experiment began against Sporting Kansas City and, while he showed flashes, it was not the epiphany that some of us hoped it could be. But one thing that we noticed is that there were a number of times that DeLeon and Dwayne De Rosario were occupying the same space, leading to breakdowns in passing lanes and turnovers. This leads me to wonder: Can De Rosario play as a forward when there is an attacking midfielder underneath him rather than two defensive midfielders?
We all know that he loves to channel his inner midfielder when playing up top, dropping well into the midfield to pick up the ball and start the attack. And we all know that he played for many years as that attacking midfielder, so it is bred into his instincts. But the flashes that DeLeon showed makes me think that he has the talent to pull the strings, if DeRo complete the transition to true second forward and can get out of his way. But if he can't, the team either needs to build around him by getting a better second defensive midfielder and spelling him with DeLeon or start laying the groundwork for the post-DeRo years.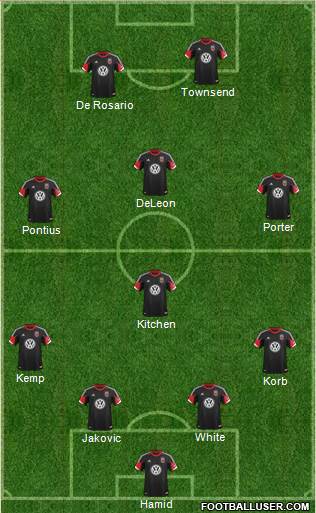 The lineup for the game against the Portland Timbers is almost identical to the formation against the Sporks, except that Chris Pontius comes back into the lineup at left midfield and Taylor Kemp replaces Daniel Woolard at left back. Watching Woolard getting beaten by Graham Zusi's speed multiple times has convinced me that Woolard, despite all of his good qualities, is simply too slow to be an effective starting fullback right now. Starting James Riley is pointless to me, so why not go with Kemp?
With this lineup, the subs would be Joe Willis, Brandon McDonald, James Riley, Raphael Augosto, John Thorrington, Carlos Ruiz (unless he's retired or traded before the game) and Lionard Pajoy. Who do you all see starting on Saturday? Am I crazy about DeRo's ability to work with an attacking midfielder?