The letting the kids play experiment worked as well as anything else has this year, and so I expect that Ben Olsen will stay with at least parts of that starting 11 when D.C. United takes on Sporting Kansas City this Sunday. But, for the second week in a row, the key question is about Chris Pontius' groin. If he is completely healthy and trusts his explosiveness again, we may finally see the player who was an MLS Best XI last season and the player who can change games by himself. But if not, it will likely be more of the same.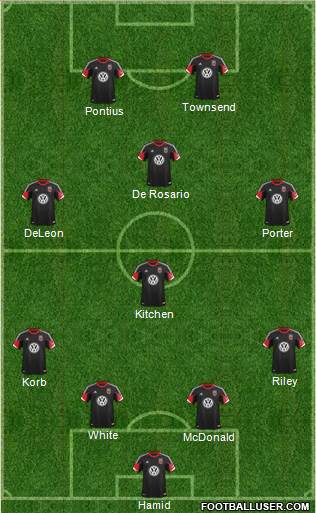 There are a few changes to this lineup over the one run out last week against FC Dallas. First, Bill Hamid is back in goal after a week to clear his head. Secondly, I pine for Chris Pontius as a forward to help jumpstart the offense, so he is there alongside Casey Townsend; this pushes Dwayne De Rosario back into the midfield and Raphael Augusto back to the bench. Finally, I went with a tossup and put Brandon McDonald alongside Ethan White, who looks like he will not be suspended by the Star Chamber Disciplinary Committee, but that could go either way. Sporting will be without Oriol Rosell and Aurélien Collin and will be at home, so perhaps we might see a more attacking lineup.
With this lineup, the subs would be Joe Willis, Robbie Russell (for his last game ever before going to med school), Dejan Jakovic, Marcos Sanchez, Raphael Augusto, Lionard Pajoy, and Rafael. What do you all see happening back in RFK against SKC?