Ben Olsen has said that he is considering moving Chris Pontius to forward to get him closer to goal and to jump start his season. While the Chicago Fire's wingers had a field day with the Columbus Crew fullbacks, I think that it is time for Olsen to shake things up; everyone knows the old phrase "the definition of insanity is doing the same thing over and over again and expecting a different result." With that in mind, let us take a look at what I think D.C. United's lineup just might be in their rematch against the Columbus Crew.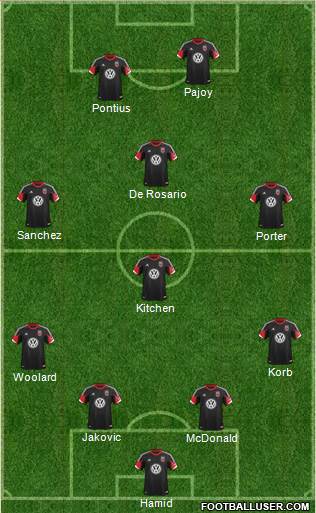 Marcos Sanchez and Dwayne De Rosario in a diamond midfield is going to put a lot of pressure on Perry Kitchen and the back line, who were exposed in the last game. It may also make United's attack more narrow when it needs to be wide against the two defensive midfielder formation that the Crew likes to play. But Kitchen and Marcelo Saragosa were similarly anonymous last week, so perhaps more pressure on Kitchen alone will force him to play better. It may also prevent Dejan Jakovic from going on a tour of the midfield and telegraphing bad passes to the opposition that lead to goals. The width in this formation is going to come from the fullbacks as well as from the forwards: both Chris Pontius and Lionard Pajoy like to start wide and then make cutting runs into the box, which will still allow the team to take advantage of the Crew's fullbacks. In a similar vein, I hope that Chris Korb and Daniel Woolard are watching tape of Wells Thompson last week, Clockwork Orange style.
Despite his below average crosses, I liked what Kyle Porter brought to the team against the Philadelphia Union; if he can find a way to keep some of those passes on the ground, he might be able to displace Marcos Sanchez on a permanent basis. He also provides a little more defense from the wings, which is always necessary in a diamond midfield. And even though Sanchez may not seem the be a prototypical winger for this formation, his penchant for pinching in may help him.
With this lineup, I predict that the bench will include Joe Willis, Robbie Russell, Ethan White, Raphael Augusto, Carlos Ruiz, Rafael Gladiador, and Casey Townsend. And all of this is also to say that I would not be at all surprised if Olsen puts out the same lineup upon which he has relied this past month. But a change is going to come sooner or later, so why not make it now?
PS: Don't miss this week's episode of Filibuster for more talk of possible formations that United could try.