After a weekend off, D.C. United is back in action this Friday, taking a trip to Sporting Park in Kansas City. United's lineup is currently unsettled, with poor performances putting players across the field on notice. However, with few good options to replace those players who are currently underperforming, the lineup for this Friday's game against Sporting Kansas City will look similar to the lineups from the first few games this season.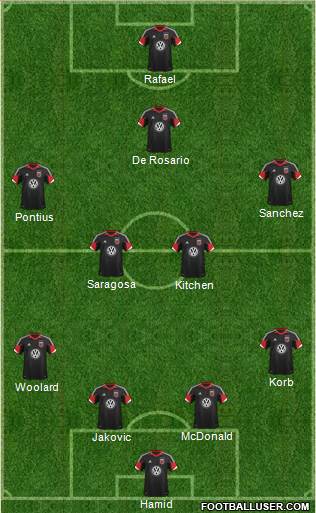 If D.C. United's last strike partnership was as much of a warning shot to Lionard Pajoy as it was a necessity, Pajoy failed. Instead of getting back to the player that he was last year, frustrating but effective, Pajoy pressed even more than he had the rest of the year so far; right now he is the very definition of "trying too hard." With all that in mind, I think that Olsen is going to give Rafael the start as the lone striker, with Dwayne De Rosario playing underneath. Playing well against one of the best center back tandems in the league is going to be difficult for whomever starts, but is also an opportunity for someone to lock down a starting position should he impress.
The main change in this lineup will be Marcelo Saragosa replacing Lionard Pajoy, returning the team to the 4-2-3-1 that it has played most of this season. I know that many fans liked the diamond 4-4-2 that Olsen used last match, but the team is going to have to be far better in possession in order for that formation to work. It also brings back all of the questions about where Dwayne De Rosario is most effective and how to best manage his minutes so he is available for the hopeful playoff run. I really want to see Raphael Augusto get minutes in this game, as perhaps he could take over the John Thorrington/Marcelo Saragosa role as a box to box fielder underneath De Rosario and another striker. While he might not have the steel of Saragosa, his technical abilities could make up for it in maintained possession
The other two changes I have are Daniel Woolard for James Riley and Marcos Sanchez for Nick DeLeon. With this lineup, the subs would be Joe Willis, Ethan White, James Riley, Raphael Augusto, Carlos Ruiz, Lionard Pajoy, and Kyle Porter. What team do you see Olsen starting this Friday?