There are a number of ways that Ben Olsen could go with his lineup for this Sunday's game against the Philadelphia Union. He could bring back Marcelo Saragosa, as some on this site have suggested. He could hold fast to the lineup that he has used the past two games and hope that starting Dwayne De Rosario for the first time in that lineup will help and hope that Chris Pontius cannot stay this bad for this long. Or he could blow up the whole lineup completely and try something new, like a 4-3-3 (although I'm not sure the team has the pieces for it to work).
If this game were at PPL Park in Chester, I would think that Saragosa would be starting and that the team would return to two defensive midfielders. And with 9 yellow cards shown in their game against Toronto FC (7 of them in the second half), I would not be surprised to see Olsen go with a little more steel in his lineup. However, with this game at RFK Stadium, I think that we will see the same general lineup that Olsen has used over the past two games, but this time with a couple of tweaks.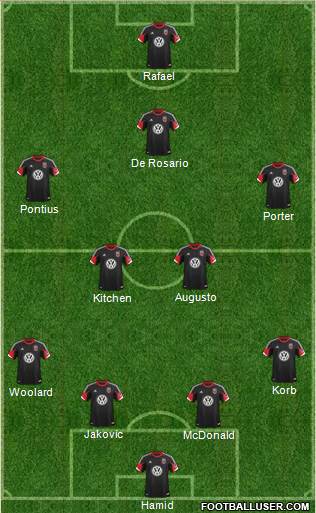 The obvious first tweak is that Dwayne De Rosario as a forward, the only question being for whom. Given his substitution pattern in the last game and his overall history with the player, I would expect to see Lionard Pajoy start. But perhaps a week of practice can give De Rosario and Rafael a working knowledge of each other that allows both of them to start. At this point I am taking the unknown potential over the known quantity.
The second change is more minor, but I would like to see Kyle Porter get the start over Marcos Sanchez, even if it leaves the team's bench a little light on offensive options. And speaking of both Sanchez and Porter, whenever one of them is one the field, that is the person that I want taking corner kicks. Not because they have the best form or pinpoint accuracy, but because I want Chris Pontius and Dwayne De Rosario in the box to have the opportunity to poke home rebounds and loose balls in the box.
With this lineup, your subs will be Joe Willis, Ethan White, Robbie Russell, Marcos Sanchez, Carlos Ruiz, and Lionard Pajoy. I don't think that Olsen will call Casey Townsend back to the first team this quickly, but it wouldn't shock me considering his performance in Richmond and the fact that the team has been outscored by Jamison Olave. And, in theory, Townsend could play for the Kickers on Saturday and then be available off the bench for United on Sunday (The Kickers have three weekends with back to back games, so he better be ready).
Your weekly koan is tangentially related to questions of lineups: Do you think that Dwayne De Rosario would be effective as a deep lying playmaker, in the vein of how David Beckham played while in MLS or how Juninho Pernambucano is playing now? And if so, how would you arrange a lineup to fit him there?