Despite the result, I think that the lineup template that Ben Olsen put out in the game against Sporting Kansas City is the right formation for D.C. United right now. Injuries to Marcelo Saragosa, Lewis Neal, and John Thorrington forced Olsen to play Raphael Augusto, and his performance in the first half left me wanting more. If he can take that performance and string it out over the course of an entire game, he could really be that number 8 that we want beside Perry Kitchen.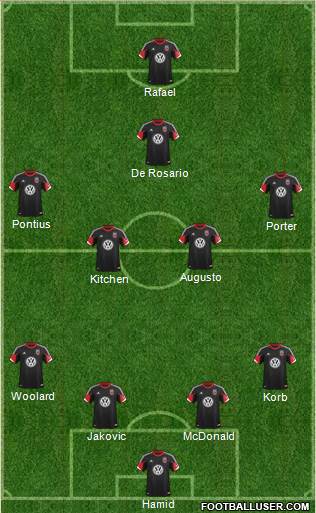 With the (hopeful) return of Dwayne De Rosario, someone has to be relegated to the bench. I, like many of you, hope that person is Lionard Pajoy but fear that it will be Rafael Gladiador. But if DeRo is unable to play in this game, there are a number of options, including the same lineup we saw last week or moving Marcos Sanchez into the middle. But the one I would like to see is trying out Carlos Ruiz in a Thierry Henry type position, floating underneath a lead striker with the freedom to do what he wants. He might be able to provide a little more creative to an attack that desperately needs it.
With this lineup, the subs would be Joe Willis, Marcos Sanchez, Ethan White, James Riley, Marcelo Saragosa, Carlos Ruiz, and Lionard Pajoy. I think that this sub role could be where Pajoy is of real use to the team: All of the defensive and hustle qualities that Ben Olsen likes would be perfect if the team is trying to kill off a game when they already have a lead. Who do you all see starting and what do you want to see if Dwayne De Rosario is not able to play?