With one game worth of evidence in the books, Ben Olsen can turn tinkering for this weekend's game against Real Salt Lake. If you remember the end of last season, Olsen would typically start a more conservative team for road games, which typically included Lewis Neal either on the left wing or in the middle, and a more attacking team for road games, often featuring Branko Boskovic or Maicon Santos. It is with that trend in mind that I predict that Marcos Sanchez will start in place of John Thorrington. After Sanchez came in the D.C. United attack immediately looked more dangerous and a start against Real Salt Lake, a less physical team than the Houston Dyanmo, would be a perfect first start for him. Olsen could also move Pontius into the middle and put Sanchez or Porter out on the wing, but I think that Sanchez in the middle is slightly more likely.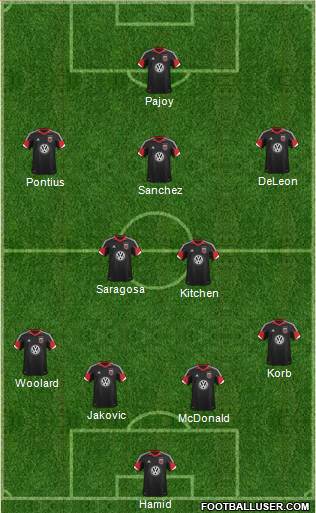 There is another possible change that Olsen could make: James Riley for Daniel Woolard. According to Steve Goff, Riley's sub at halftime for Woolard was tactical and not injury related. Now, it could just be that Olsen wanted to go for a more athletic defender, especially with Woolard already sitting on a yellow card, or it could be that Olsen wanted a defender who would get more into the attack. But with Riley's eyes closed header, I expect to see Woolard back on the field to start this game. If he can rekindle some of the offensive prowess he had developed before his injury, he can develop back into a high quality fullback.
Finally, there is D.C. United's bench, who I forgot last week. But this week, they should be Andrew Dykstra, Kyle Porter, Carlos Ruiz, John Thorrington, James Riley, Robbie Russell, and Rafael Gladiador. What lineup would you like to see for this Saturday's home opener?